Gold Prices 'Look Bullish' as Trump's Tweets Delay China Tariffs, Whack Oil Price
Monday, 2/25/2019 15:26
GOLD PRICES moved in a tight range in major currency terms on Monday as the Chinese Yuan hit 7-month highs against the Dollar and China's stock market surged after US President Trump delayed putting heavy tariffs on imports of Chinese goods, writes Atsuko Whitehouse at BullionVault.
....productive talks, I will be delaying the U.S. increase in tariffs now scheduled for March 1. Assuming both sides make additional progress, we will be planning a Summit for President Xi and myself, at Mar-a-Lago, to conclude an agreement. A very good weekend for U.S. & China!

— Donald J. Trump (@realDonaldTrump) February 24, 2019
Crude oil fell 1.7% from a new 2019 high after Trump also went onto Twitter to say that "prices [are]
getting too high
" for the world's "fragile" economy, and called on the Opec cartel of producer nations to "relax and take it easy" with more output.
Gold prices edged up to $1332 per ounce as Monday's start of US trading approached, still down 1.3% from last week's spike to 10-month highs.
The US Dollar fell against all major currencies except the Japanese Yen and Swiss Franc after the Chinese Yuan opened sharply higher, pushing through 6.70 per Dollar and hitting its strongest since mid-July.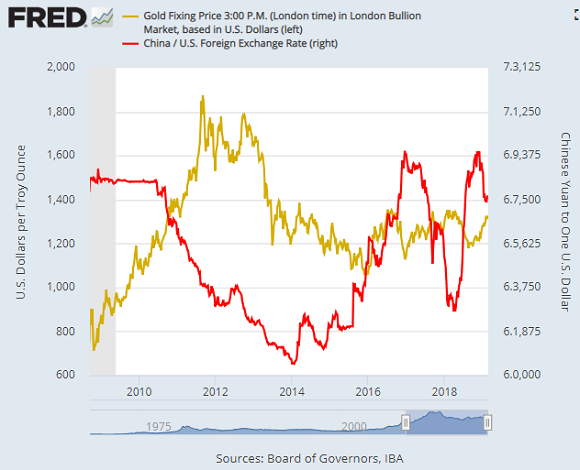 Besides Donald Trump's tweets, Chinese President Xi Jinping was also seen boosting sentiment by calling over the weekend for fresh
reforms and "opening-up"
in China's financial industry.
"Trump's extension of the [1st March] tariff deadline
has weakened the Dollar
, driving gold up," reckons one spead-betting analyst.
"It continues to look bullish," says another, "with $1320 having provided
adequate support
late last week."
European stock markets rose after the Asia rally, fueling an advance 0.3% in the Stoxx Europe 600 index.
Gold prices for European investors fell however on Monday, edging down to €1170 per ounce as the Euro strengthed against the Dollar.
For UK investors, gold prices slipped near 2-week lows at £1013 before rallying as first Prime Minister Theresa May delayed a "meaningful vote" for Parliament on her final Brexit deal with the European Union until 12th March, and Ireland's Prime Minister Leo Varadkar then said he is "confident" the UK will either leave with a deal or delay its departure.
Silver prices
meantime swung in a 15-cent range but held unchanged for Dollar investors at $15.92 per ounce.
Platinum rose to 3-month highs above $850 as the Association of Mineworkers and Construction Union (AMCU) in South Africa – the industrial metal's No.1 producer nations – said it's planning
a series of secondary action
at 15 mining companies to raise pressure on Sibanye (JSE: SGL) over continued wage strikes.
Sister metal palladium hit a new record peak of $1526 per ounce, soaring more than 80% since mid-August on a widening supply deficit for the metal, needed by auto-makers for catalysts for cutting harmful emissions from gasoline engines.
Over in Canada, world No.1 gold miner Barrick Gold (NYSE: GOLD) confirmed today it has offered to buy No.2 rival Newmont (NYSE: NEM) in an all-stock deal worth nearly $18bn.
Barrick last month spent $6.1 billion to "merge" with rival Randgold Resources, while Newmont is
currently set to spend
$10bn to acquire world No.4 gold miner Goldcorp (NYSE: GG).