Gold Prices Rise Again as UK Tory Party Splits, Putin Threatens US, China Jewelry-Makers 'Sold Out'
Wednesday, 2/20/2019 13:58
GOLD PRICES rose to fresh multi-month highs against all major currencies on Wednesday, hitting $1346 per ounce even as the US Dollar ticked higher on the FX market and world stock markets rose.
Silver prices finally rose together with gold, rising back above $16.00 per ounce for the first time this month.
The UK gold price in Pounds per ounce hit new 17-month highs above £1033 as the ruling Conservative Party saw its first defections over Brexit.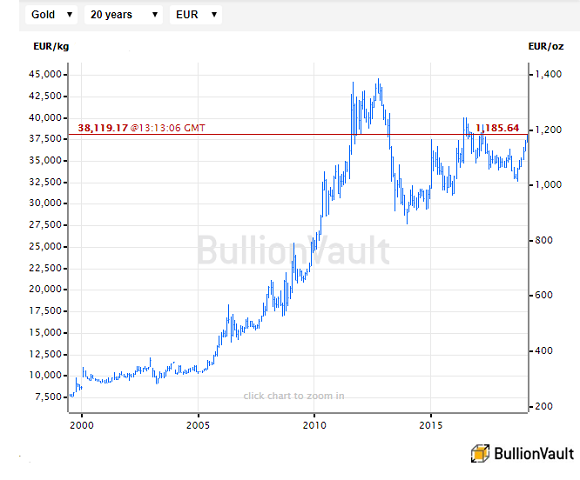 "Geopolitical uncertainty in the UK and Europe, coupled with ongoing US-China trade disputes, should continue to see investor interest in the precious," says a trading note from Swiss refiners MKS Pamp.
After seven UK opposition Labour MPs yesterday quit their party for moving towards the hard left, three ruling Conservative Party MPs today joined them in the new "independent group", blaming "blatant entryism" by hard right activists, most notably the ERG anti-Europe group led by Jacob Rees-Mogg.
"
We haven't changed
," the ex-Tory MPs tell Prime Minister Theresa May in their resignation letter. "The Conservative Party has, and it no longer reflects the values and beliefs we share with millions of people throughout the United Kingdom...much as the hard left has been allowed to consume and terminally undermine the Labour Party."
Switzerland's largest bank, UBS, meantime said it will appeal a €3.7 billion fine levied by a criminal court in France for money laundering.
Debate in Spain's Parliament has
descended into "rude name-calling"
, says
El Pais
, as politicians try to score points off each other ahead of next month's snap elections - the third such vote in 4 years.
Italy's left-right coalition is meantime pushing for an
"anti-austerity" academic
to run the country's welfare and pensions agency INPS as the Government seeks to cut youth unemployment by encouraging olders workers to retire early.
Promising a boost to welfare payments in his annual state of the nation address, Russian President Vladimir Putin today said he
will target the United States
with new supersonic 'Zircon' missiles if the US deploys new intermediate-range missiles in Europe.
"The potential for a pause to US rate rises [also] weighs upon the greenback," adds MKS.
Betting on US interest rates now sees a 98.4% chance that the Fed will stick or cut by the start of February 2020, up from 72.4% this time last month according to data from the CME derivatives exchange.
For China's gold demand – the heaviest consumer market – "Potential headwinds from the US-China trade dispute are a concern," says the latest weekly note from specialist analysts Metals Focus, "but they may be offset by Chinese authorities' ramping up of fiscal and monetary policy accommodation."
Metals Focus
says it found jewelry showrooms in Shenzhen "very busy" on a field trip ahead of the Lunar New Year, confirmed by "early feedback from our contacts" since the Year of the Pig began.
"A critical supporting factor for Chinese gold jewelry demand has been the ongoing recovery in 24-carat sales," the note continues, with sales "robust throughout 2018 and particularly strong during the recent holiday.
"Some manufacturers mentioned they ran out of stock."