Gold Price Gains as Dollar Drops, Selling from GLD ETF Erases 2019's Growth
Monday, 2/18/2019 14:37
GOLD PRICES climbed to a 2-week high in Dollar terms on Monday as the US currency eased lower on the FX market and US-China trade talks were set to continue in Washington, writes Atsuko Whitehouse at BullionVault.
Asian stock markets rose but European equities were hit by a drop in auto-makers' shares as US President
Trump received a report
suggesting he impose steep tariffs on Euro imports 90 days from now.
New York's financial markets stayed shut to mark President's Day.
The State of California meantime
prepared a legal challenge
to President Trump's declaration of a national emergency over building his southern border-wall.
"Alleviation of risks around the trade talks has certainly benefited the [financial] markets," says ANZ analyst Daniel Hynes, adding that signs of progress in the discussions had reduced appetite for the Dollar, helping support gold prices.
"[But] while the US government shutdown seems to have been adverted, there remains uncertainty," says a trading note from Swiss refining and finance group MKS Pamp.
"[That continues] to underpin interest in bullion.'
Spot gold bullion prices rose to $1325 per ounce, while the Dollar Index – a measure of the US currency's value versus its major peers – retreated from this month's 1.4% gain so far.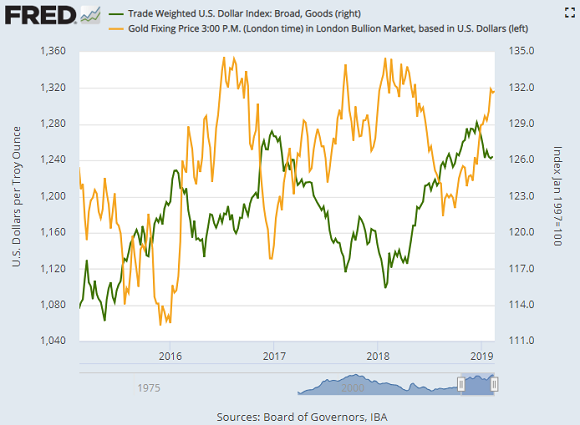 Silver prices rose to $15.81 per ounce today, extending Friday's 2.1% gain. Platinum edged slightly lower to $807.
Trade talks between the US and China will move to Washington after breaking up in Beijing on Friday without a deal.
Trump said Sunday that last week's talks were "very productive", and he may extend the 1st March deadline for re-imposing heavy tariffs on imports of Chinese goods.
Friday saw the giant SPDR Gold Trust (NYSEArca: GLD) shrink again, needing 3.8 tonnes fewer to back the value of its shares as stockholders sold out.
Falling to 793 tonnes of
gold ETF
backing, the GLD has now erased all of 2019's previous growth by shrinking on 9 out of 11 trading days so far this month.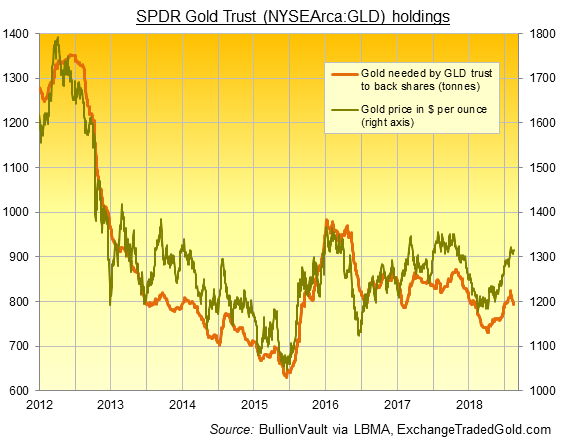 After another weekend of violence at gilets jaunes protests across France, gold prices for European investors today dipped beneath €1170 per ounce, slipping from Friday's fresh 22-month high when the single currency hit a three-month low against the Dollar.
Policy makers at the European Central Bank are taking weak economic data "seriously", said ECB member Francois Villeroy de Galhau on Sunday, adding that the outlook for interest rates could change if this weakness continues.
Seven oppposition MPs today quit the Labour Party to become independents in protest at socialist leader Jeremy Corbyn's stance on Brexit, his failure to address anti-Semitism among members, and what they called a "take over" by far-left activists.
UK Prime Minister Theresa May meantime plans to speak to every EU nation leader this week, plus the European Commission, to get a changes to her agreed EU withdrawal deal for Brexit on 29 March following last week's latest defeat in the British Parliament.