Gold Price Slips from 3-Week High as China Returns But 'Risk On' Defies Coronavirus, Safe Havens Fall
Monday, 2/03/2020 14:24
GOLD PRICES fell from 3-week highs on Monday in London, as risk sentiment recovered – and Western stock markets rallied – despite a plunge in Chinese equities as Beijing vowed to ensure financial stability amid the fast-worsening coronavirus emergency, writes Atsuko Whitehouse at BullionVault.
Gold prices slipped 0.8% to $1577 per ounce as the US Dollar rose and so-called 'safe haven' currencies the Japanese Yen and Swiss Franc retreated from multi-week highs.
Major Western government bond prices also slipped with gold prices, edging the yield offered by 10-year US Treasury debt up to 1.53% per annum, still one-fifth lower from the start of 2020.
Noting the 8% plunge in Shanghai's stock market – the biggest daily drop in 4 years as it reopened a day late after the Lunar New Year holidays – "Chinese markets are just catching up with the risk off moves in the past week," says Adam Cole, chief currency strategist at RBC Capital Markets in London.
"The fact that we haven't had any more bad news over the weekend means that there is a bit of a sigh of a relief, so risk markets are faring better."
Shanghai-traded commodities from oil to copper also plunged at Monday's opening, hitting their maximum down limits despite the People's Bank of China unexpectedly cutting its short-term interest rates and pumping over $175bn of liquidity into the money market.
The Yuan meantime fell past the key 7-per-dollar level, plunging 1.2% to its weakest so far this year, and
Shanghai's benchmark
gold 'fix' price – launched 3 years ago – rose above ¥357 per gram, the highest level since last August's new record, but still shy of the record Yuan prices set in 2011-2012.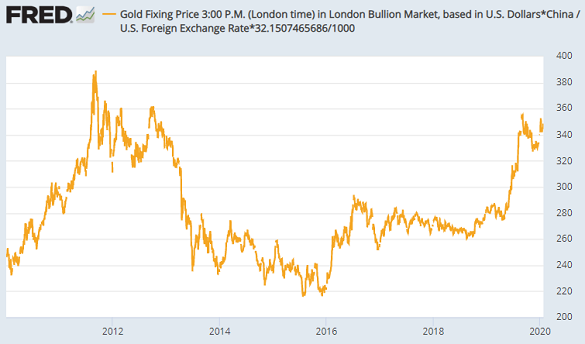 That put the Shanghai gold premium – over and above comparable quotes in the world's central bullion hub of London – at just $3 per ounce, barely 1/3rd of the typical incentive for new imports into China, the world's No.1 gold mining, importing and private consumer nation.
Total gold imports into No.1 consumer-nation China more than trebled in December 2019 from the previous month, but fell by more than a quarter from 12 months before.
China's factory activity then expanded at its slowest pace in five months in January, the private-sector Caixin survey showed on Monday, while factory activity in the Eurozone – the world's second largest single currency bloc outside the US – contracted again in January but did so at its shallowest rate since mid-2019, according to the Markit PMI survey.
Gold prices for European investors fell 0.5% to €1425 per ounce, while European stock markets recovered from their worst week in nearly seven months.
UK manufacturing meantime snapped its longest decline since the financial crisis last month, Markit PMI data said Monday, with factories reporting steady activity ahead of last Friday's Brexit from the European Union.
PM @BorisJohnson says the government's "made a choice" - the UK wants a "comprehensive free trade agreement similar to Canada's".

If this isn't successful, trade will have to be based on the "existing withdrawal agreement with the EU". https://t.co/AAa5LLxW8d pic.twitter.com/PQ9bo9VFNS

— Sky News (@SkyNews) February 3, 2020
UK gold prices today
rose 0.3% to £1208 per ounce as the Pound fell on the FX market following comments from UK Prime Minister Boris Johnson – a key campaigner for Brexit – that London could walk away from talks with Brussels if the European Union insists on a treaty that maintains UK parity with the now 27-nation free trade zone in labor, environmental and product-safety laws.