Gold Prices Slip as Coronavirus Spreads Before Chinese New Year
Tuesday, 1/21/2020 14:23
GOLD PRICES slipped in London trade Tuesday, edging down as world stock markets fell amid the worsening outbreak of coronavirus in China.
With 6 people now confirmed dead from the virus in China while new cases are reported worldwide, airports outside the country said they will start screening Chinese passengers on arrival to try and prevent coronavirus spreading.
Starting this week, "Chinese New Year holidays are going to worsen the situation," says one
analyst
to Reuters, "as people are bound to travel in China.
"The fear of outbreak is going to drive up demand for gold for a couple more days."
Household gold demand in No.1 consumer market China fell nearly 14% in 2019, new data from the China Gold Association said Tuesday.
Gold mining output in China – the No.1 producer nation since 2006 – meantime slipped 5.2% last year, the CGA added, "affected by factors such as the withdrawal of mining rights in nature reserves, the policy on transferring mining rights, the management of cyanide residue as a hazardous waste, and the depletion of mining resources."
Gold prices jumped at the start of Tuesday's Asian trade to $1568 per ounce, near the highest in 2 weeks, before retreating $15 by lunchtime in London.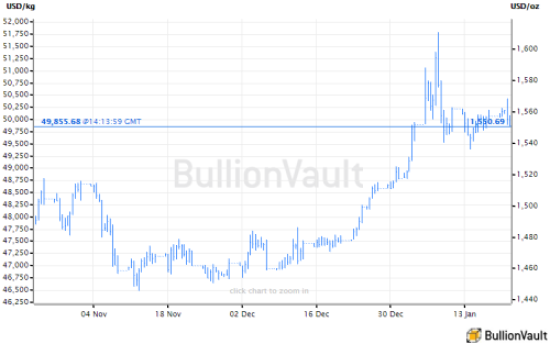 Gold imports into India, world No.2 consumer nation behind China since 2013, will most likely rise this year from 2019's three-year low, reckons N.Anantha Padmanaban, chairman of trade body the All India Gem & Jewellery Domestic Council.
Even with Rupee prices now at record highs, "How long will people wait for the price to correct?" he asks Bloomberg.
"The only investment for the middle and lower middle class is gold, so they have to come back, whatever the prices."
On the political front meantime, a leading figure in Iran today offered a
reward of $3 million
"to whoever kills Trump" in retaliation for the US assassination earlier month of a senior Iranian commander in Iraq.