Gold Prices Extend 7-Year Peak as Iran Strikes Yemen, GLD Expands
Monday, 1/20/2020 14:50
GOLD PRICES rose to $1562 per ounce Monday in London, touching the highest in more than a week after Iran-backed Houthi rebels in Yemen killed more than 100 Saudi-backed government troops, writes Atsuko Whitehouse at BullionVault.
Gold crept only 0.2% higher however after setting the highest Friday finish on London's benchmark LBMA Gold Price since before
April 2013's price crash
, the metal's worst plunge in 3 decades.
Asian shares meantime held near a 20-month top as the People's Bank of China kept its key interest rate unchanged, but Hong Kong's stockmarket fell hard following yet another weekend of pro-democracy protests and violence.
"Just like last year the yellow metal has so far managed to find support relatively soon following a push to a fresh high," says derivatives platform Saxo Bank's commodity strategist Ole Hansen.
"It highlights the continued focus on gold as a portfolio insurance against a change in the current direction of stocks and bonds."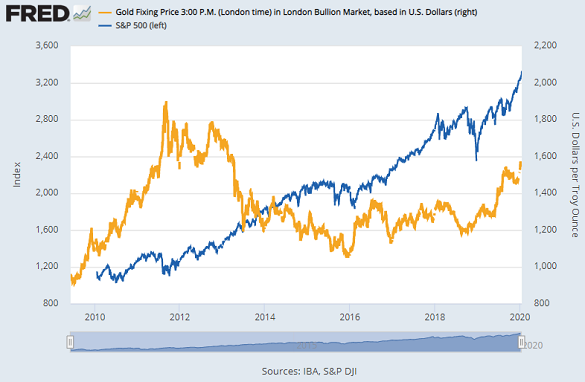 MSCI's all-country index is up almost 2.5% for the first three weeks of the year, and was holding near record highs on Monday along with Wall Street and European benchmark equity indices.
Trading volumes were low with US markets closed for the Martin Luther King Jr. holiday and ahead of the Chinese Lunar New Year starting this Friday.
No.1 gold ETF trust fund the SPDR product (NYSEArca: GLD) last Friday saw the largest 1-day growth in its number of shares in issue since 21st June, when
geopolitical risks were increasing
in the Middle East and Hong Kong.
The GLD needed an extra 19 tonnes for the day, reaching almost 899 tonnes in size as investor demand increased the number of shares in issue to the most since mid-November.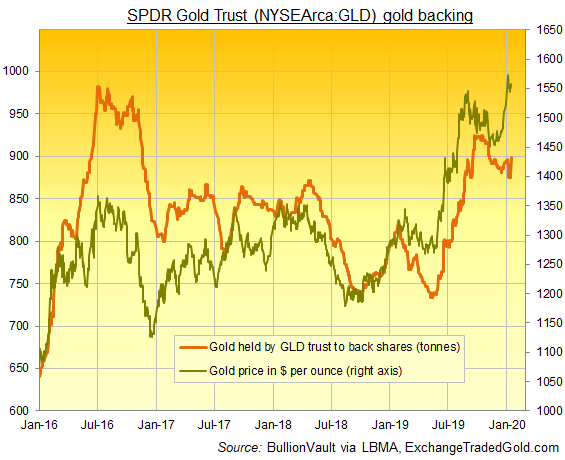 At least 80 Yemeni soldiers attending prayers at a mosque were killed and 130 others injured in ballistic missile and drone attacks by Iran-backed Houthi rebels on Saturday, the UN Special Envoy for Yemen reported Sunday – a figure revised higher on Monday.
Like gold prices, oil on Monday rose to its highest in more than a week after Libyan commander Khalifa Haftar blocked exports at ports under his control, causing the National Oil Corp. to declare 'force majeure', allowing the country to legally suspend delivery contracts.
The EU's top diplomat, Josep Borrell, said on Monday the European Union will discuss all ways to uphold a formal ceasefire in Libya but any peace settlement would need real support to make it hold.
Foreign powers agreed at a summit in Berlin on Sunday to stop sending arms to the warring factions in what was the world's No.5 oil producer before the fall of Muammar Gaddafi in 2011.
Gold prices for European investors today rose 0.2% to €1407 per ounce while European stock markets traded slightly lower ahead of this week's European Central Bank meeting and the World Economic Forum in Davos.
UK gold prices were up 0.3% to £1200 per ounce – nearly a 2-week high – as the Pound struggled after Friday brought weak retail sales figures and economy minister Sajid Javid then stoked fears of a 'hard Brexit' with comments over the weekend.
Palladium was flat Monday lunch time after hitting record high above $2500 per ounce on Friday, while sister metal platinum held above the $1000 level after Nymex derivatives betting set a fresh record high on the latest positioning data, with hedge funds and other speculative players continuing to
'swing behind' platinum's 2020 outlook
.
Silver prices
also held flat Monday lunchtime in London, trading at $18.04 per ounce.