Gold Prices Track Rising US Bond Yields Closest Since 1987 as Government Shutdown Looms
Friday, 1/19/2018 14:03
GOLD PRICES rose against the falling Dollar but held flat or fell versus other major currencies on Friday as the US faced a possible government shutdown over lawmakers' failure to agree a 2018 budget.
Asian and European stock markets shrugged off last night's drop in New York stocks but major government bond prices slipped as the emergency US funding bill – needed to avert a government shutdown in Washington – passed the House only to face Democrat opposition in the Senate.
Euro and Japanese Yen gold prices both held 0.6% down for the week.
The UK gold price in Pounds per ounce bounced off last night's near 3-week low but held 1.2% down from last Friday at £962.
"Shutdown coming? We need more Republican victories in 2018!"
With bond prices falling, the annual yield offered by 10-year US Treasury debt was pushed up yesterday to 2.62%, its highest close since September 2014.
Two-year yields today neared 2.05%, their highest level since Sept 2008's global financial banking crash.
On a rolling 1-month basis, gold's daily correlation with 2-year Treasury yields has risen to +0.95 this week.
That figure would read +1.00 if gold and US bond yields moved exactly in lockstep with each other. It has averaged -0.46 over the last 5 years, with a median reading of -0.12 across the last four decades.
This week's reading is the strongest positive correlation between gold and short-term US yields since May 1987, and was only beaten once before that, in September 1979.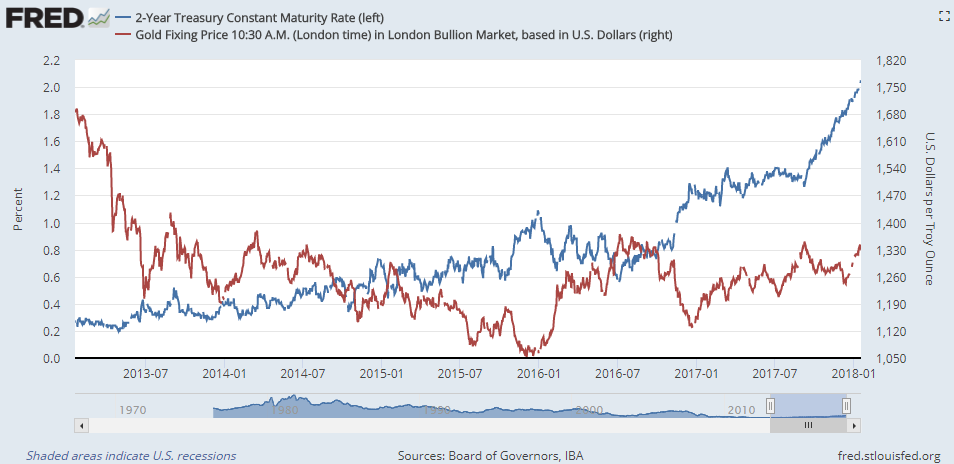 "Gold [is] ignoring many usual headwinds," said a note earlier this week from George Gero at Canadian wealth managers RBC, "looking for next direction [amid] possible looming government shutdown and other geopolitical and political worries."
"Any government shutdown that persisted into [next] week would breed the type of uncertainty that can rattle investors' confidence," reckons Greg McBride, head analyst at US personal finance site Bankrate.com.
"Markets have done
nothing but go up lately
[but this] could reintroduce investors to the fact that markets go down as well."
Against the Dollar the Euro today held little changed at this week's 3-year highs around $1.225, while the Chinese currency jumped to 2-year highs both on the domestic and international markets.
That helped cut the
gold price in Shanghai
to a 2-week low even as the global price rose back to last week's closing level at $1337 per ounce in late Asian trade.
Accounting for the Dollar-Yuan exchange rate, bullion already landed in Shanghai – the official entry point for all gold into the world's No.1 consumer market – rose to a $9.50 per ounce premium to London quotes.
That was the first time so far in 2018 that the incentive for new imports of gold into China edged above its typical $9 level.
"Signs of positive physical demand in China continue to provide some support for prices," says a note from Australian financial group ANZ.
One of the first foreign banks to join the Shanghai Gold Exchange a decade ago, and now a market-maker in the city's daily benchmarking, "Reports from Chinese jewelers suggest demand leading into this year's Lunar New Year is strong," says ANZ.