China Gold Price Hits First Premium in 10 Months as Dollar Rises, US Yields Jump Amid 'Oust Trump' Demands
Monday, 1/11/2021 15:24
GOLD PRICES bounced $30 per ounce on Monday, erasing a new plunge to sudden 6-week lows at $1817 hit in Asian trade as the Dollar climbed against all its major peers and Western stock markets fell against a backdrop of rising long-term interest rates amid growing political pressure for Donald Trump to be ousted from office following last week's violent protests against President-Elect Joe Biden, writes Atsuko Whitehouse at BullionVault.
The overnight drop in global bullion prices saw gold landed in China, the metal's largest consumer nation, erase its discount to London prices for the first time since the Covid Crisis reached Europe and North America last March.
Spot gold prices had earlier sunk 1.7% to the lowest since start-December before regaining two-thirds of that loss by lunch time in London.
Gold prices on the Shanghai Gold Exchange meantime fell in Yuan terms but showed a premium of 90 cents per ounce to London prices, the first such incentive for new imports since 24 March last year, the morning after
the UK declared its first national lockdown
.
Wholesale bullion landed in gold's No.1 mining, importing and private-household market last week averaged a $9 discount to London, the smallest since the end of February but still contrasting with the average $9 premium seen before the Covid-19 outbreak took hold last Lunar New Year.
With Chinese New Year now marking the world's heaviest gold-buying and gifting festival, the new Year of the Ox begins in barely 4 weeks' time.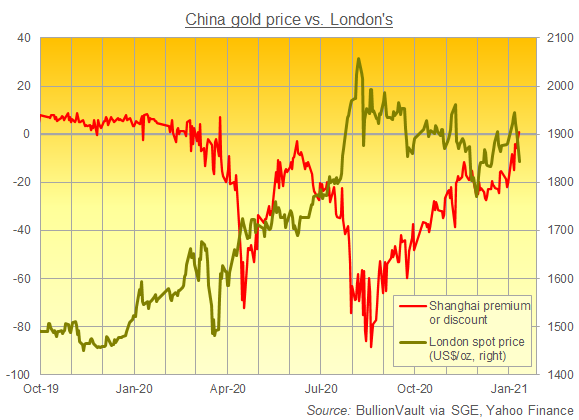 Gold priced in Dollars for London settlement last week dropped 2.6% – its worst weekly loss since November's vaccine announcement from Pfizer – and touched a 5.6% plunge today from last Wednesday's 9-week high at $1959 per ounce.
"Gold fell a bit too much in my view last week," said Swiss finance group and London bullion clearing bank UBS's Giovanni Staunovo to Bloomberg this morning.
"I would expect real [interest] rates to fall again in the short term and the US Dollar to again weaken."
With bond prices falling again Monday, the annual yield offered to buyers of 10-year US Treasury debt touched new 9-month highs above 1.13% after rising 20 basis points last week.
Adjusted for market-based inflation forecasts, that put the real 10-year yield at -0.94%, its least negative since early December and markedly higher from last Monday's touch of -1.08% per annum, the multi-decade low hit when gold prices set their current all-time peak above $2000 last August.
The Dollar today extended its rally from 3.5-year lows against a basket of other major currencies to the highest since Christmas Eve.
"Price risk remains
skewed to the upside
," reckons analyst Suki Cooper at Asian-focused bank and London bullion market-maker Standard Chartered, "in light of our expectations of further Dollar weakness, negative real rates, inflation concerns and expectations of further fiscal stimulus amid accommodative monetary policy."
Over in Washington, House Speaker Nancy Pelosi yesterday called on current Republican Vice-President Mike Pence to
invoke the 25th Amendment
to remove Donald Trump from office immediately over encouraging last week's storming of Congress.
CNN says a source close to Pence told the news outlet he is considering the request because he fears the President
could become more unstable
during his last days in office.
Should Pence refuse Pelosi's demand, the House will hold a vote to impeach Trump instead, barring him from running for office again in future.
Trump himself has made no public statement since he was banned from several social media platforms, including Twitter, on Friday.
Back in bullion,
silver prices
sank 4.3% Monday morning, hitting a 4-week low of $24.34 per ounce before recovering two-fifths of that drop by the start of New York trading.
So-called crypto currency Bitcoin meantime sank 20% from last Friday's new all-time high before rallying as the UK's Financial Conduct Authority warned private investors of
"very high risks"
in such schemes.
"If consumers invest in these types of product, they should be prepared to lose all their money," the watchdog says.