Gold Market Rallies, Stocks Slip as Beijing Downgrades US-China Trade Talks, UK's 'Final' Brexit Deal Rejected by Germany
Tuesday, 10/08/2019 13:30
GOLD MARKET prices recovered an overnight 1.1% loss in London's wholesale bullion trade Tuesday, rising back to last weekend's level for US and Euro investors as Western stock markets slipped from a 1-week high and government bond prices rose amid worsening trade tensions between the US and China, the world's 2 largest economies.
Silver tracked gold's recovery, rising back to $17.56 per ounce, while
platinum prices
rose 0.8% for the week so far at $887.
Other commodities fell however, with European benchmark crude oil Brent falling over $1 per barrel towards 2-month lows
Longer-term interest rates also retreated as bond prices rose, erasing Monday's rise in 10-year US Treasury yields to 1.56% per year – badly lagging US inflation, last reported at 2.4% on the 'core' cost of living index stripping out food and fuel.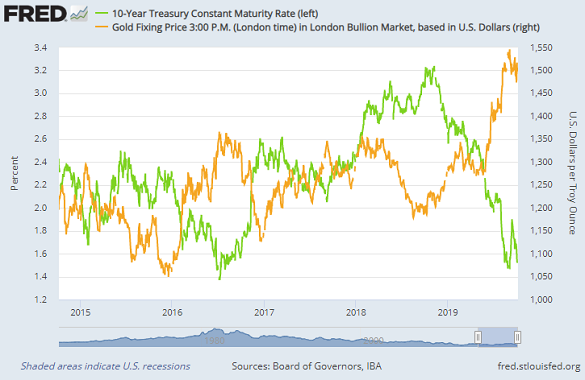 Shanghai's gold market re-opened Tuesday after
China's Golden Week holidays
marked the 70th anniversary of communist rule, showing a $7 per ounce premium to London quotes – some $2 below the typical level and the lowest incentive for new imports into gold's No.1 consumer nation since May.
Despite evidence of a slow-down at home, China's leading mobile payments platform Alipay says the week-long break saw Chinese citizens holidaying abroad
spend 15% more on average
than during Golden Week 2018, reaching some $351 per person.
Chinese vice-premier Liu He will arrive in Washington for Thursday's key US-China trade talks
without instructions for a deal
from President Xi Jinping, the South China Morning Post reports, because he won't carry the title of "special envoy".
.@BorisJohnson, what's at stake is not winning some stupid blame game. At stake is the future of Europe and the UK as well as the security and interests of our people. You don't want a deal, you don't want an extension, you don't want to revoke, quo vadis?

— Donald Tusk (@eucopresident) October 8, 2019
Sterling fell towards 1-month lows versus the Dollar on the currency market, down more than 3.5 cents from late-September's highs.
Gold demand in No.2 consumer-market India, in contrast, is set for a very poor Diwali festive season,
LiveMint reports
, with dealers expecting sales to fall in half from 2018 on the metal's high Rupee prices and additional import duty further raising bullion costs.