Gold ETFs 'Now Bigger Than Germany's Reserves' as Virus Breakthrough Hits Price
Tuesday, 5/19/2020 14:16
GOLD ETF prices steadied with bullion quotes in London on Tuesday, trading at the equivalent of $1733 per ounce after dropping hard from fresh multi-year and new all-time record highs against the world's major currencies on news of a potential medical breakthrough in stemming the global pandemic of severe acute respiratory syndrome coronavirus 2.
One of aroud 80 labs worldwide working to develop a vaccine against SARS-CoV-2, Moderna Inc. (Nasdaq: MRNA)
said Monday that its safety trials
found neutralising antibodies in the first 8 people taking part.
Peaking just before that news at the highest since October 2012 at $1765, gold bullion lost $40 per ounce for US Dollar traders by the start of today's London trade, and also fell over 2% from new all-time records in UK Pound and Euro currency terms.
With the Euro gold price falling back below €1600 – a new record high when first reached a month ago – "European-listed funds were responsible for the lion's share of inflows into
gold-backed ETFs
yesterday," notes John Reade, strategist at the mining industry's World Gold Council.
Month-to-date in contrast, "US-listed funds buying has dominated so far in May,"
Reade adds
, "as was the case in April."
Global gold-backed ETF leader the SPDR Gold Trust (NYSEArca: GLD) did not change in size on Monday, needing a 7-year record of 1,114 tonnes of bullion to support its stock-market value.
Smaller and cheaper competitor the iShares Gold Trust (NYSEArca: IAU) in contrast expanded to need another 1. 8 tonnes, reaching a new record size with almost 436 tonnes of backing.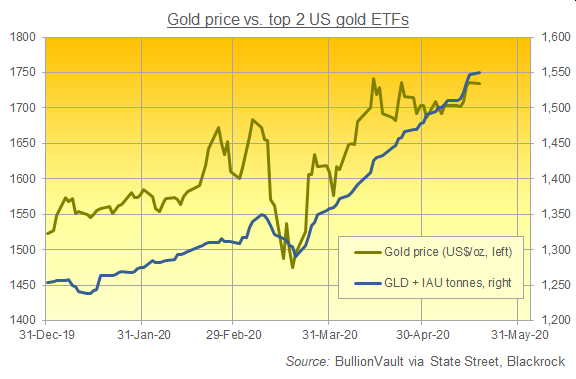 "If gold ETFs were a central bank," says Rhona O'Connell at brokers INTL FCStone, "they would now be the second-largest holder in the world, having overtaken Germany."
The Eurozone's largest economy, Germany comes behind the United States among sovereign gold holders, with the Bundesbank reporting 3,364 tonnes split between Frankfurt, London and New York.
World Gold Council data
now put the quantity of bullion held to back exchange-traded products for investors wanting exposure to gold prices above that level.
"With the exception of one day (23rd April), the gold ETFs have now enjoyed 40 consecutive days of gold ETF creations," O'Connell wrote Monday, "for a net addition of 341 tonnes."
That demand equals two-thirds of world gold mine production since New Year, O'Connell notes, and comes "in the face of virtually zero demand from the Middle East and Asia, which – on average over 2010-2018 inclusive – accounted for 74% of gold fabrication demand."
Asian stock markets rose Tuesday, but Europe failed to extend yesterday's strong gains in US equities.
Major government bond prices meantime ticked lower, edging longer-term interest rates up to the highest in a month on
10-year US Treasury debt
at 0.73% per annum.
Natural resources continued to recover from March's historic crash, taking European benchmark Brent crude oil up to its highest in 10 weeks near $35 per barrel.
"Investors [in gold] are reacting promptly to development around anti-virus news," says one London market maker in a note.
"If Moderna's breakthrough is confirmed, it will be much harder to trade gold on intra-day basis [but] the prospects for more easy money should keep price corrections marginal."