Gold Price 'Set for $2,000...Even $7,000' as GLD Leads ETF Surge, Spain Extends Covid Lockdown
Wednesday, 4/22/2020 13:55
GOLD PRICE losses of 1.1% were more than reversed overnight and Wednesday morning in London, taking wholesale bullion back above $1700 per ounce as the US Dollar weakened and global stock markets rallied from yesterday's drop.
The virus' first wave is nearing its peak in the UK, the London government said, and
Germany approved trials
of a possible vaccine, but Spain moved to extend its lockdown until mid-May.
European stock markets rallied 1.1% from yesterday's 1-week low, but held one-quarter below mid-February's record high on the EuroStoxx 600 index.
Despite yesterday's price drop, exchange-traded trust funds backed by gold – giving shareholders exposure to the metal's price, without any ownership – expanded yet again Tuesday according to Bloomberg data.
As a group worldwide, such
gold-backed ETF products
now need over 3,300 tonnes of bullion to support their stockmarket value, a record sum very nearly equal to 1 year's global gold-mining output.
Gold ETF holdings display a strongly positive relationship with the gold price, showing a rolling 12-month correlation of +0.79 across the last 15 years.
That would read +1.0 if the size of ETF holdings in tonnes and the gold price in Dollars moved exactly in lockstep.
It has risen to +0.95 over the last 12 months.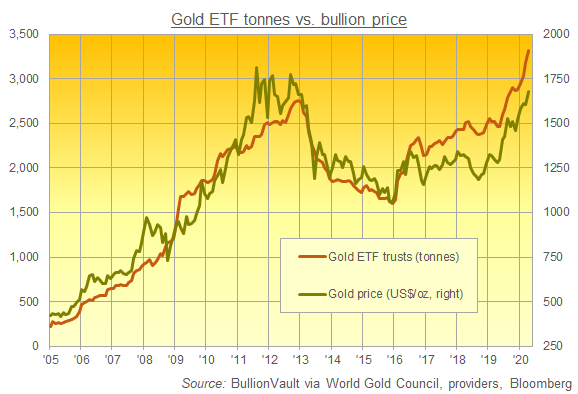 Since in launched in late-2004, the world's largest gold trust-fund product, the SPDR Gold Trust (NYSEArca: GLD), has only expanded on 17.5% of those trading days when gold prices fell.
That has risen to 45.7% of falling-price days since New Year 2020, and reached 7 in 8 of gold's falling-price days so far this month.
"I'm going to have to take very seriously the possibility that we might see $2000,"
says George Milling-Stanley
, chief gold strategist at GLD providers State Street Global Advisors.
"There's a rational case for gold hitting $7,000 by 2030," says fund manager Charlie Morris in a separate presentation for what should have been this week's Denver Gold Forum, pointing at real interest rates – after accounting for inflation – as
a key driver of the bullion price
.
In contrast to Western investment prices, Shanghai gold prices fixed at a $47 discount to London prices on Wednesday, continuing to suggest near-record weakness in China's world-leading gold demand versus its No.1 mining and importing supply.
In the broader economy, a new survey from pollsters Gallup says that one in four Americans think it very or fairly likely they will lose their job in the next 12 months.