Gold ETFs Surge as Covid Crisis Crushes Asia's Already-Weak Demand
Wednesday, 4/15/2020 14:51
BULLION PRICES eased back Wednesday after setting new 7-year highs in US Dollars and fresh all-time highs in Euros as gold-backed ETF trust funds expanded yet again amid the Coronavirus economic shutdown.
Global stock markets failed to follow Wall Street higher, losing more than 2.5% for the day in Europe, after the International Monetary Fund forecast a
3% drop in world GDP
for 2020 – the worst since the 1930s' Great Depression.
Major government bond yields also fell, as did industrial commodity prices, with
silver prices
erasing almost all of this week's previous 2.8% gain back down at $15.42 per ounce.
Gold prices today bottomed $40 per ounce below Tuesday's new 7-year Dollar high of $1747, rallying to $1718 as New York opened for business.
That saw the giant SPDR Gold Trust (NYSEArca: GLD) – the world's largest
gold ETF
, charging 0.40% in annual management fees – slip 0.6% from yesterday's closing price.
Data compiled by Bloomberg say that bullion-backed trust funds traded on the world's stock markets saw inflows of investor cash for
the 17th session in a row
on Tuesday.
The size of such gold-backed ETF products, represented by the change in how much bullion they need to back their value, shows a strong and growing correlation with moves in the gold price.
Between 2003 – when such products first launched – and the end of 2018, the price of gold moved up or down together with the size of gold-backed ETFs worldwide 73.8% of the time on a 3-month basis.
That figure has since risen to 93.8%.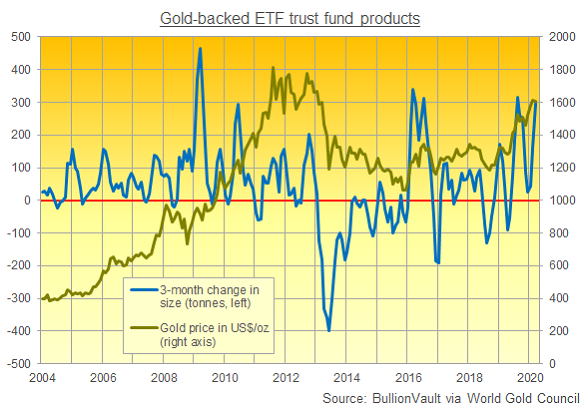 With the European Commission today outlining what it called a "roadmap" to exiting the social and economic lockdown imposed to stall the outbreak of novel coronavirus, badly-hit Italy allowed some stores selling non-essential items to re-open, while opposition politicians in Spain accused the government in Madrid of
creating new panic and confusion
by lifting some measures.
Germany's federal government said most of its anti-Covid measures will
stay in place for another 20 days
, including its blocks at the country's borders, with only smaller shops and cultural institutions with a lot of space allowed to open, but with a target of re-opening schools and universities in May.
Statistics out of Belgium meantime showed that deaths in old-age care homes are
running almost level with the number
of Covid patients dying in hospital, but with testing for the disease missing 97% of such cases.
Gold priced in the Euro today rose back to Tuesday's new all-time highs above €1581 per ounce, while the British Pound price held 1.5% below February's top, trading at £1380.
Over in China – source of the coronavirus outbreak, and No.1 gold consumer nation – gold prices on the Shanghai Gold Exchange today fell to a fresh all-time discount compared to the global benchmark of London quotes.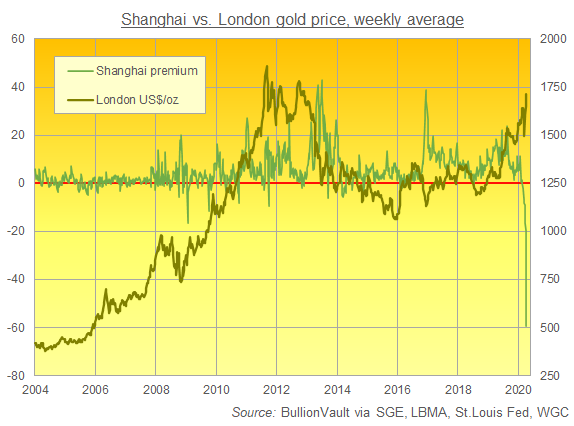 "Fund managers [in Asia[ are seeking to drum up interest for gold as an asset class among retail investors," says the South China Morning Post, reporting how GLD promoter State Street Global Advisors is halving the number of gold ETF shares needing to be traded in 1 lot of its Hong Kong-listed offering, bringing the cost to private investors nearer to 1 ounce of gold.
India's Coronavirus lockdown extension is also hurting demand in the metal's No.2 consumer nation,
cancelling the spring wedding season
and putting "at stake the livelihood of millions of gig workers who provide wedding-related services," notes the
Business Standard
, including "jewellers, designers, tailors, caterers, pavilion and tent providers."
India gold prices today hit
fresh all-time record highs
, says LiveMint, worsening the metal's affordability for consumers, while a survey of 500 poorer households in western India's key city of Ahmedabad said 40% families were facing food or medicine supply-related issues, with
74% not having no regular income
since the lockdown began.
Data compiled by specialists Metals Focus for the mining-industry's World Gold Council say that between them Chinese and Indian households bought 1 ounce of gold in every 2.5 sold worldwide during the 2010s.
That fell however to 1 ounce in every 3.1 during 2019.