Gold Prices Rally from 6-Week Low After Hedge Funds Cut Bullish Bets, ETFs Expand Ahead of Biden White House
Monday, 1/18/2021 14:49
GOLD PRICES rose from six-week lows Monday morning, hit after new data said speculators cut their bullish betting the fastest in 19 months last week but the giant GLD gold-backed ETF expanded for the first time since New Year, writes Atsuko Whitehouse at BullionVault.
Chinese gold premiums
meantime rose again, reaching a 12-month high and suggesting that 2020's glut of supply versus demand may have been worked through ahead of Lunar New Year 2021.
Spot gold prices for London settlement rose 0.4% to $1836 per ounce after falling in Asian trade to $1810, the lowest since 2nd December.
Monday morning's lows came after gold prices dropped more than 1% last week to decline 3.7% so far in 2021.
"This new [US] government will provide more economic stimulus and also the policy of the US Federal Reserve is unlikely to become more hawkish going forward," says Commerzbank analyst Eugen Weinberg.
"Therefore we are likely to see continued support for gold prices."
"But it seems like the stubborn short-term resilience of the Dollar and concern for even higher [bond] yields is triggering steady liquidation in gold."
Latest data, published Friday by US regulators the CFTC for the week ending Tuesday 12 January, showed that hedge funds and other money managers trading Comex gold futures and options cut their bullish betting on gold by more than one fifth and grew their bearish betting higher by almost 6%.
That pulled the net long position of Managed Money traders down by 31% from a week earlier, the sharpest weekly retreat since May 2019, reaching the smallest size since late-November, back when gold prices fell below $1800 per ounce for the first time in 5 months.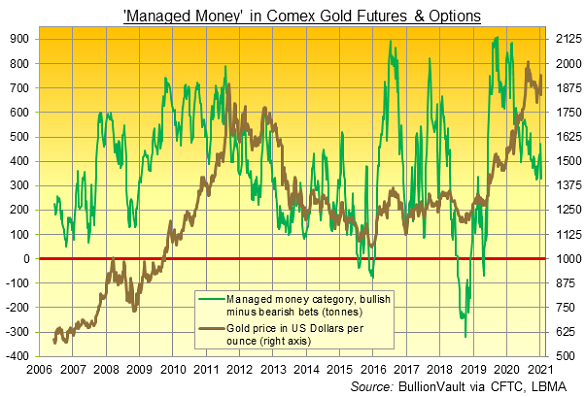 In contrast to leveraged speculation on gold derivatives, the giant gold-backed SPDR Trust (NYSEArca: GLD) expanded 1.4% on Friday, marking its first net inflow of investment money since 4th January.
Smaller
gold ETF
the iShares product (NYSEArca: IAU) did not see any net change in size.
The Dollar Index – a measure of the US currency's value versus its major peers – strengthened 0.1% Monday lunch time after hitting a four-week high on Friday.
Biden's new administration
won't seek to win export sales
by weakening the currency, Treasury Secretary nominee Janet Yellen will tell a Senate confirmation hearing on Tuesday according to the
Wall Street Journal
.
Ten-year US Treasury yields last week pushed up through the 1%-mark, making the cost of borrowing for Washington the highest since the Covid Crisis began 10 months ago.
With Washington's going into a militarized lockdown ahead of Wednesday's inauguration, US bond and stock markets are closed Monday in observance of Martin Luther King, Jr. Day.
New data from China said this morning that the world's 2nd largest economy expanded 6.5% in the fourth quarter of last year, a faster rate than before the coronavirus pandemic and taking its 2020 growth to 2.3%.
China's lowest GDP growth since 1976, that will still probably mark the only major economy to expand last year.
Gold prices on the Shanghai Gold Exchange meantime continued to trade above London quotes, increasing to a $7 premium per ounce after recording the highest incentive to new imports into the metal's No.1 consumer nation since January 2020 last week.