Gold Prices Jump on Italy Coronavirus Fears, Set New Record Highs in Euros and Sterling
Monday, 2/24/2020 16:24
GOLD PRICES surged to multi-year Dollar records and new all-time highs in most other major currencies at the start of Monday's Asian trade, leaping as stock markets around the world tumbled amid fears that the coronavirus outbreak could become a pandemic, writes Atsuko Whitehouse at BullionVault.
Spot gold prices jumped 2.8% at Monday's Asian opening to reach $1689 per ounce – the highest since February 2013 – extending its biggest weekly gain in more than six months.
Asian and then Western stock markets slumped in contrast, pulling the FTSE-MIB index of Italian shares down 5.9% as the authorities in Milan imposed a quarantine around the worsening outbreak of Covid-19 in a nearby town.
New record highs were meantime set for gold priced in the Euro, British Pound, Canadian and Australian Dollars, with prices coming within a few per cent of new records in the Swiss Franc and Japanese Yen.
The price of more industrially used silver rose 1.3% to $18.74 per ounce, but autocatalyst metal platinum dropped hard with sister-metal palladium, dropping to $961 per ounce.
"Gold prices are doing what they should given renewed (global) growth risks and easier policy responses is a new core underlying driver," says the latest bullion-market note from Canadian financial services group Scotiabank.
"It's already taken out our average forecast for 2020 ($1600) and it's likely the floors are shifting up," the note goes on, pointing to strong inflows from investors – both to
gold-backed ETF trust funds
and leveraged betting on the derivatives market.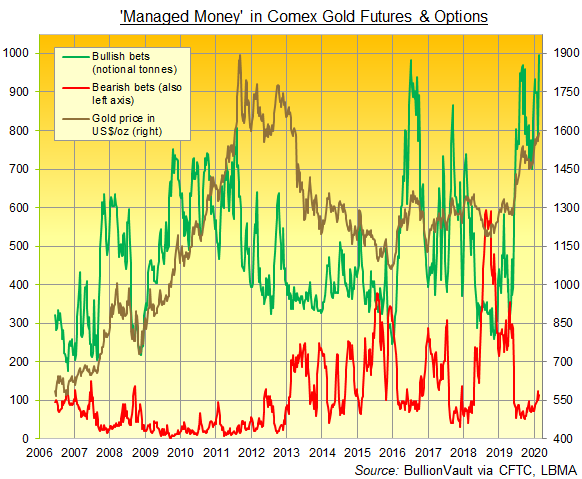 Data from US regulator the CFTC show that hedge funds and other leveraged speculators in Comex gold futures and options raised their bullish betting as a group to the highest ever recorded in the week-ending last Tuesday, when prices went above $1600 per ounce for the first time in 7 years.
That 'Managed Money' category also increased its bearish betting as a group, up to the second highest in 2020 so far.
Overall, that pushed the net long position of Managed Money traders up by 24% to the highest in more than 5 months.
Today in India, the No.2 bullion consumer nation, where Donald Trump today greeted huge crowds on his first official visit to the subcontinent, gold prices hit a fresh record high in Rupee terms.
South Korea's KOSPI share index meantime fell about 3.9%, the biggest drop since October 2018, after Seoul raised its infectious disease alert to the highest level for the first time in a decade, with over 760 cases with 7 related fatalities.
That left MSCI's broadest index of Asia-Pacific shares outside Japan – shut today for the Emperor's Birthday holiday – down 1.9% at its lowest since early February.
"Markets [are] likely to show extreme caution in the face of [the] global spread of the coronavirus," says Robert Carnell, chief Asia-Pacific economist at ING.
Coronavirus-related deaths have risen to more than 2,620 worldwide, with over 30 outside of mainland China. There are at least 79,300 confirmed cases globally.
The weekend's Group of 20 meeting in Riyadh, Saudi Arabia saw finance ministers and central bankers talk about a response to the outbreak, according to press reports, yet their final communique only mentioned the epidemic once.
Bank of Japan governor Haruhiko Kuroda said
Tokyo is "well prepared"
to support the economy, and US Treasury secretary Steven Mnuchin said central banks are looking at possible responses.
According to the
CME's FedWatch tool
, betting on US interest-rate futures currently sees zero chance of any US rate rise this year, with the possibility of a rate cut in the next meeting – due 17-18 March – jumping to 23% from 11% in the precious session.