Beijing Buys Gold Bullion 5th Month Running as US-China Trade War Hits Stocks, Growth and FX Reserves
Tuesday, 5/07/2019 13:45
GOLD BULLION held flat in Euro and Dollar terms on Tuesday morning, trading unchanged from the weekend as London's bullion market re-opened after the May Bank Holiday and world stock markets fell again as the US administration of Donald Trump continued to threaten new trade tariffs against China.
Crude oil dropped to $70 per barrel of Brent and copper also lost 1.5% for the day.
Silver tracked
gold prices
lower, falling to $14.80 as gold bullion slipped back to $1279 per ounce.
President Trump said Sunday he will raise tariffs on $200 billion of Chinese imports from 10% to 25% this coming Friday, plus targeting another $325bn of Chinese goods "shortly".
"That in our view is unacceptable."
The United States has been losing, for many years, 600 to 800 Billion Dollars a year on Trade. With China we lose 500 Billion Dollars. Sorry, we're not going to be doing that anymore!

— Donald J. Trump (@realDonaldTrump) May 6, 2019
"If this results in an escalation of tensions between the [world's top] two trading partners," Bloomberg quotes stockbroker Nick Twidale, COO of Rakuten Securities in Australia, "then it can
only lead to further downside
for Asian stocks."
"As initial deadlines for US-China trade negotiations and Brexit have passed without resolution," agrees the European Commission in its new outlook today –
cutting 2019 GDP forecasts
to just 0.5% for Germany and 1.2% for the 19-nation Eurozone – "various uncertainties continue to loom large [and] an escalation of trade tensions could prove to be a major shock."
Tokyo's stock market returned from the week-long imperial succession celebrations to lose 1.5% on Tuesday as the 'safe haven' Japanese Yen rose on the FX market, pushing gold prices down towards 4-month lows at ¥4,548 per gram.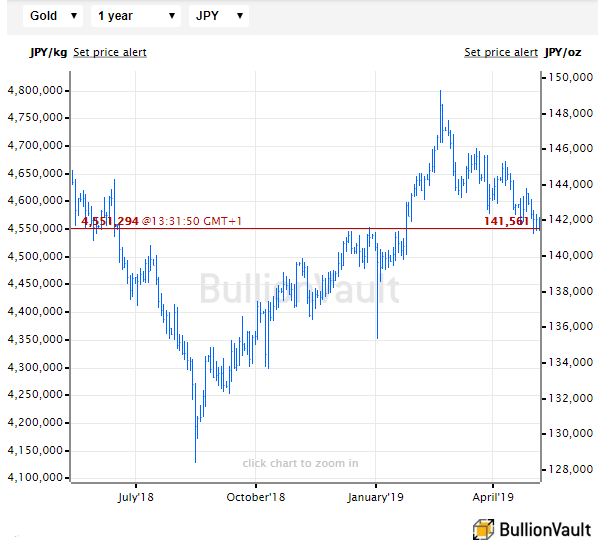 Shenzhen's stock market meantime rallied 0.5% from yesterday's steep plunge, but held near its lowest since late-March, down almost 10% from April's high.
The Yuan also rallied on the FX market, recovering from the 3-month lows it hit against the Dollar at the start of this week's trading on Trump's comments.
Beijing said Tuesday that China's giant foreign-exchange reserves
shrank for the first month in six
in April, edging back one-eighth of one per cent to $3.1 trillion.
The People's Bank grew its gold bullion reserves once again, however, buying gold for the 5th month running and adding over 15 tonnes to reach 1,900 tonnes, sixth in the world behind the US, Germany, Italy, France and Russia.
"While China is the world's biggest producer of gold," says the state-run Xinhua news agency, "its holdings
make up a small percentage
of its total foreign exchange reserves."
Open-market prices in the Shanghai gold market today held a $12 premium per ounce to London quotes, still above the historic average but sharply down from the $20 incentive for new imports offered last month as Beijing restricted bullion inflows by capping bank import licenses.
World No.5 gold consumer nation Turkey meantime saw its electoral commission agree on Tuesday to President Recep Tayyip Erdoğan's demand that the regional vote in Istanbul be re-run next month.
Both gold and silver prices held flat for UK investors on Tuesday, trading unchanged from before the May Bank Holiday weekend as Prime Minister Theresa May faced demands to stand down from members of her ruling Conservative Party over continued meetings with opposition Labour Party figures to try and find a way forward on Brexit.