Gold Bullion Rallies Above $1700 as Dollar Slips, Lockdown Easing Sees Equities Climb
Tuesday, 4/28/2020 14:11
GOLD BULLION rallied from 4-session lows in London on Tuesday, edging back above $1700 per ounce as the US Dollar slipped from its strongest value against the world's other major currencies since 2017 and global stock markets extended their rebound amid further relaxations of 'lockdown' rules worldwide.
"Gold looks as though it may have overreached itself for now at the recent highs of $1750," says Jonathan Butler, strategist at Japanese conglomerate Mitsubishi.
"The US Dollar [has been] absorbing much of the safe haven flow...[reaching] a 3-year high...[while] equities have staged a strong recovery as investors are cheered by governments backstopping many corporates."
Asian and European equities then rose again today, and global equity markets could rebound further says a new note from Swiss bullion bank and global wealth advisors UBS.
"[But] even the best case scenario has the markets ending 2020 10% lower than 2019," says
Investment Week
, reporting the UBS analysis, with the risk of governments mishandling the removing of lockdown restrictions – plus the success or failure of post-shutdown measures to contain the novel coronavirus – threatening to push stocks back down through March's lows to
end 2020 down 30%
from last New Year Eve.
Among other Covid-19 news today, Austria will allow gatherings of up to 10 people from the end of this week, while France is now expected to re-open schools from 11 May.
But Germany's attempt to relax some restrictions has now seen the No.1 Eurozone economy's "r-rate" of reproduction
rise back to 1.0
, with each case of coronavirus now infecting 1 other person, up from the low of 0.7 reached in mid-April.
Back in gold bullion, and "with a strong Dollar at present and the worst of the outbreak appearing to be over in China and Europe," says Butler at Mitsubishi, "fresh upside catalysts may be lacking, though the unprecedented monetary largesse across the world should keep yields low and raise inflation expectations."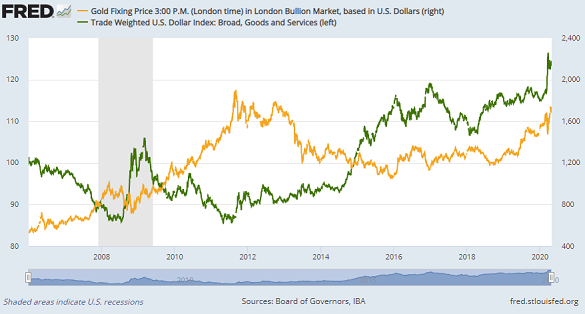 On a 52-week basis, the correlation of gold prices with the US Dollar's trade-weighted currency value has flipped from strongly negative to firmly positive since the middle of 2019.
Typically showing an r-coefficient of -0.68 over the 10 years ending last July, the relationship between gold and the Dollar has since shown a reading of +0.47 on average.
Wholesale bullion in China – the metal's number one mining, importing and consumer nation – meantime slipped 0.8% against the Yuan on Tuesday even as the Chinese currency slipped again on the FX market.
With London spot trading $5 below $1700, that took gold bar prices in Shanghai down to $1655 per ounce.
Gold in Shanghai has now traded at a discount to London for 5 weeks running, the longest stretch since spring 2014 saw Chinese retailers
work through the over-stocking built
following the previous year's global price crash and consumer-demand surge.
Gold prices in India – the No.2 gold consumer nation, and from where
exports of bullion are similarly banned
– also held steeply below London quotes again on Tuesday, trading near 3.5-year record discounts of $48 per ounce as easier virus lockdown rules found people
preferring to stay home
instead of returning to work or shopping.
"Marriage season is here, but there are no buyers for gold," says the Times of India, with one dealer adding that "The lockdown came at a wrong time for us...Sales during March and April [usually] account for 30% of annual sales."