Gold Bullion Discounts Deepen in China, India as Covid Shutdowns Smash Jobs In US, Europe
Friday, 4/03/2020 14:31
GOLD BULLION bars slipped but held most of this week's rally against a rising Dollar Friday lunchtime in London, trading at $1610 per ounce as new US data said the world's largest economy lost over 700,000 jobs in March as the government shut down private activity to try and stall the coronavirus crisis.
Euro gold headed for its 2nd highest Friday close at €1495 per ounce, just €20 below mid-February's peak, after separate data overnight from Markit IHS said the 19-nation Eurozone – the world's second largest economic bloc – saw economic activity crater at a record pace in March.
Second-worst hit by Covid deaths after Spain, Italy saw service-sector activity
sink by two-thirds
.
"Confidence about the future was the lowest [ever] recorded," says the
Markit data agency
of its combined manufacturing and services surveys across the Eurozone, and "such uncertainty led many companies to reduce their employment levels...the first time in over five years."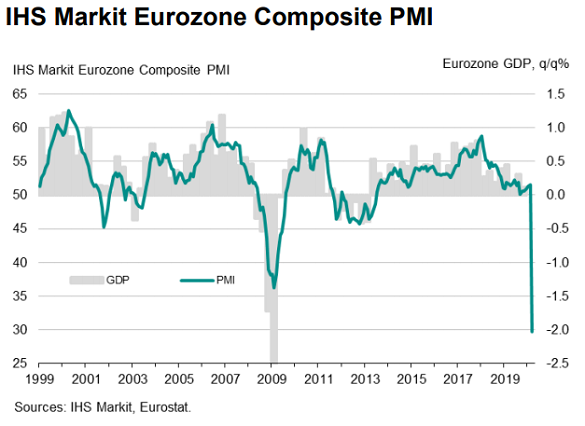 Crude oil meantime extended its record rally from near 2-decade lows, rising over 46% for US benchmark WTI after an alliance of nations – led by No.1 producer Saudi Arabia and No.1 non-Opec cartel member Russia – were rumored to be discussing
output cuts of 6 million barrels per day
or more, equal to more than 7% of world supply.
With the Yuan currency of China falling this week near last October's 11-year lows to the Dollar, gold prices in Shanghai today showed a $20 discount per ounce to global quotes for London settlement of large bullion bars.
Bullion bars landed in the world's No.1 consumer market more typically offers a $5-9 premium.
On a week-average basis, Shanghai gold prices now show a discount of $16.50 to London, matching the post-liberalization record of end-January 2009, when
prices and premiums whipped
violently amid the Lehman Brothers' crash in global financial markets and the start of zero rates and QE in the United States.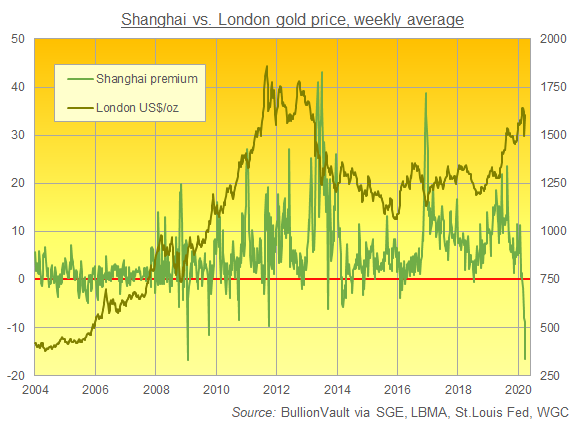 "Shoot them dead," Philippine President Rodrigo Duterte today said of lockdown violators in Asia's 7th most populous nation, where confirmed cases of coronavirus has more than tripled this week.
Asian city-state Singapore also finally
moved to shut schools and businesses
today, imposing this "circuit breaker" on the virus spreading instead of "tightening incrementally" as it had previously tried.
Neighboring India meantime saw gold bullion prices in Rupee terms hold near all-time highs despite Dollar discounts to London widening further near $50 as the Modi administration's 3-week lockdown kept shops shut across the No.2 gold jewelry consumer nation.
"After the lockdown is over, there will be
a trend to sell old gold
to generate instant cash," reckons James Jose of the Association of Gold Refineries and Mints, "[because] the lockdown would have affected their income, and people will try to spend money to uplift their mood. They will go shopping."