Record Prices Spur Gold Bar Smuggling Out of China, Negative Real Rates 'Boost Silver' as UK Pound Sinks Again
Wednesday, 9/09/2020 14:13
GOLD BARS traded in London's wholesale bullion market fell and then rose back to $1935 per ounce Wednesday lunchtime, standing unchanged for the week so far as Western stock markets stemmed the steep plunge of the last 4 sessions.
With the EuroStoxx 600 rallying 0.9%, the Nasdaq 100 index of US-listed tech stocks headed for a 1.5% rise at today's opening in New York, trimming its plunge of 1/10th from last Wednesday's new all-time high.
Relative to gold – against which the index peaked at more than
15 ounces at the top of the DotCom Bubble
in March 2000 – the Nasdaq has now gone sideways since the middle of 2018, despite rising by more than one-half in cash terms.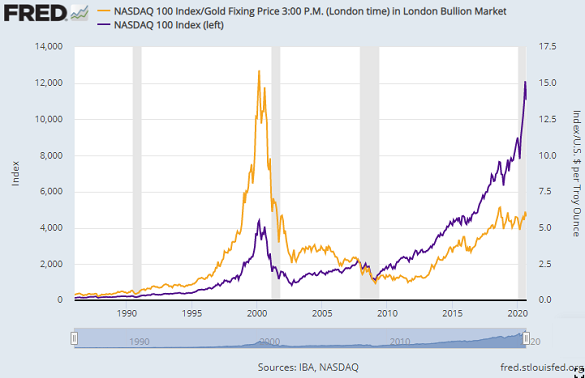 Gold prices in China today fell to trade $51 per ounce below London quotes, suggesting weak demand versus supply in the metal's No.1 mining, importing and household consumer nation – from where it is illegal to export gold bullion bars.
"There is a difference in gold prices [between] Hong Kong and mainland China," the
South China Morning Post
today
quotes a police officer
in the city, blaming this 10-20% gap for an attempt to smuggle 20 one-kilogram gold bars – worth around US$1m – into the formerly 'autonomous' region of the Communist dictatorship.
"The [official] mining sector over many years has shrunk quite a lot in South Africa," says James Wellsted of Sibanye Stillwater (JSE: SSW), South Africa's largest legal producer.
"That's meant there are a lot of ex-miners who now don't have jobs, and some of them resort to illegal mining. And it is a very big challenge for the mining industry and the country as a whole."
"Whilst we continue to see the long-term trend higher," says a trading strategy note from Swiss bank Credit Suisse, "reinforced by falling US real yields and a falling US Dollar, our immediate bias remains for further consolidation above a cluster of supports at $1887/37.
"Should weakness extend, we would see scope for a deeper setback to $1765, potentially $1726."
Adjusted by market expectations for inflation, the real yield offered by 10-year US Treasury bonds today fell back through -1.00%, a
record negative real rate
on current data when first breached on the way down in late July, just as gold prices broke new all-time highs.
"In the period since real [US] interest rates went negative at the start of the pandemic in March," says Japanese conglomerate Mitsubishi's head of precious-metals business development Jonathan Butler, "
silver prices
have risen from $14 to highs of $29.86 – an increase of 113%."
Silver bullion today tracked gold bar prices lower and then higher, trading almost unchanged for the week so far by lunchtime in London at $26.75 per ounce.
"Were inflation to continue to rise," says Butler, "as the US Federal Reserve are now allowing for, real interest rates could conceivably go further into negative territory than the current minus 1%, and silver could correspondingly rise further as investors seek cheap inflation protection."
Gold bars priced in Euros meantime recovered further from yesterday's near-week lows, rising to €1640 per ounce, but UK investors saw bullion hit 3-week highs above £1495 as Sterling sank again amid the worsening Brexit Deal stand-off between London and Brussels.
The British Pound fell to new 6-week lows on the currency market, down almost 5% against its major peers from start-September's 2-year highs, after the UK Government published its
Internal Market Bill
, seeking to over-ride key sections of the EU Withdrawal Agreement – signed by pro-Brexit prime minister Boris Johnson as an "oven-ready deal" in January – ahead of December's final UK exit from the European Union.
"Introduced to protect jobs and trade across the whole of the United Kingdom," the Bill would give Westminster control over state aid and regulatory rules in Northern Ireland, breaching the UK-EU agreement to avoid a hard border for goods and services with EU member the Republic of Ireland.
"Agreements must be kept" said Ursula von der Leyen President of the EU Commission.
"We are currently rebuking the Chinese for their breach of the
Treaty with the UK over Hong Kong
," added former British foreign secretary Malcolm Rifkind. "[This is] an unnecessary own goal."