China's Price to Buy Gold Extends Discount to London as Silver Demand Leaps on Cheapest Offers in 11 Years
Friday, 3/20/2020 14:49
BUY GOLD prices in London, heart of the world's wholesale bullion markets, again tried to rally above $1500 per ounce on Friday, while global stock markets bounced together with industrial metals and major government bond prices as the death-toll from novel coronavirus rose past 10,000.
American crude oil contracts failed to hold above $25 per barrel after Gavin Newsom, governor of California, issued a "stay at home" order for the most populous US state in a bid to slow the spread of the virus.
Trading 5.7% below last Friday's London PM benchmark today, gold priced in the US Dollar has now fallen $200 from the prior week's 7-year high close.
While the US stock market has lost almost one-fifth of its value to hit 15-month lows on the
S&P500 index
, that 2-week plunge of 12.4% is the steepest since gold hit the bottom of its Spring 2013 crash, but it has now rallied some $40 from Monday's drop to the cheapest prices for buying gold in 4 months at $1452 per ounce.
That still put silver on track for its worst weekly drop since May 2011's retreat from the metal's attempt on $50 per ounce, down 18.6% from this time last Friday.
The Gold/Silver Ratio
eased back from this week's dramatic spike to sudden new all-time highs, with one ounce of gold equal to buying 117 ounces of silver.
That contrasts with a half-century average of 56, and a historic average across the last millennium of nearer 15-to-1.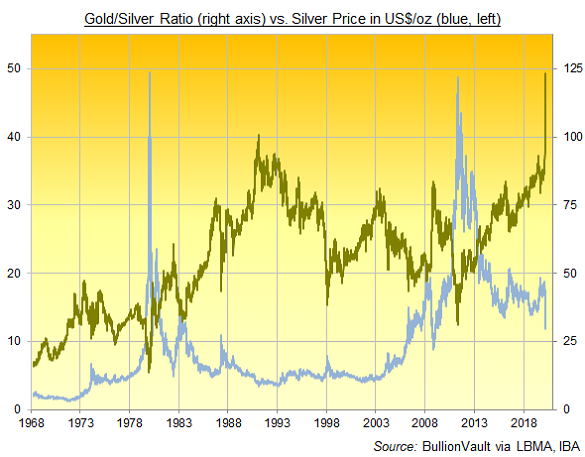 "The increased appetite on the ground in India for silver as it plumbs 11-year lows continues to be mirrored in very heavy demand for coins in Europe and North America," says Rhona O'Connell at brokerage INTL FC Stone, noting that the US Mint already sold 3.1 million ounces of American silver Eagles this month, almost matching January's traditionally strong full-month total and more than twice the full 2019 total.
Silver's largest bullion-backed ETF product has also expanded so far this week, with investor inflows to the iShares SLV swelling the trust fund's shares in issue by 3.6%, its first weekly growth so far this month.
Gold-backed ETF products
the GLD and IAU in contrast ended Thursday smaller from the end of last week, both shrinking by 1.9% so far.
Nearly
10 million people in Germany
– gold's 4th largest consumer market, where business sentiment has sunk according to yesterday's Ifo survey report as confirmed cases of Covid-19 jump past 10,000 – now risk infection with the novel coronavirus by June if stricter measures aren't imposed, Berlin's official disease control agency said this week.
China in contrast "shows COVID-19
Coronavirus can be stopped
in its tracks" says a blog at the United Nations, with Beijing saying Friday that source-region Hubei has now showed no new infections since Tuesday.
Now the largest consumer gold market after overtaking India in 2013, China's prices to buy gold on the Shanghai exchange today held $1.85 per ounce below London quotes, extending this week's average gap to more than $8 per ounce and reversing the more typical incentive offered for new imports into its third week.
Revenues per rooms in the world No.2 economy sank by 90% last month, InterContinental Hotels Group said Friday, with March set for a 60% plunge worldwide as Asian airline giant Cathay Pacific said it's cutting passenger flights by 96% in April and May.
Many major UK retail chains today
said they are closing stores
, and shares in estate agency website Rightmove (LON: RMV) slid nearly 7% – taking its plunge from last month's new record top to more than one-third – after it cut client fees by 75% for the next 4 months, superseding its previous offer of deferred payment.
Euro gold prices also showed a gain for the week on Friday, edging near to €1400 per ounce – a new all-time when first touched last September – following the European Central Bank's move to
create and lend €750bn of emergency money
for businesses and governments through this pandemic.