Platinum Price Jumps, Palladium Sinks as Gold Ends Week Unchanged
Friday, 4/05/2019 15:15
GOLD PRICES held almost unchanged for the week and from this time last month on Friday in London, trading at $1290 per ounce as new data showed surprise strength in the US jobs market and white metals platinum and palladium continued their sudden reversal.
The
platinum price
today extended its surge above $900 per ounce, setting new 10-month highs at $908 with a 7.0% gain for the week.
Sister-metal palladium meantime rallied to $1355 per ounce after extending its plunge from mid-March's new all-time high above $1600 to nearly 18% overnight.
Since the lows hits last August, platinum has now rallied by almost 20%, but palladium more than doubled to last month's peak.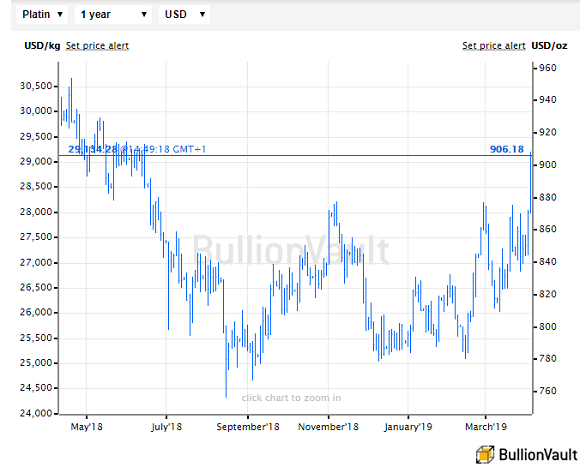 Historically much cheaper than platinum, and primarily used in autocatalysts to cut harmful emissions from petrol engines,
palladium could be substituted by platinum
in that technology – but manufacturers and analysts warn that any such switch would take time to plan and implement.
Meantime in gold, the giant SPDR Gold Trust (NYSEArca: GLD) yesterday saw further liquidation by investors, taking the outflow of bullion needed to back the No.1 gold ETF's stock to 21.7 tonnes so far this week – the biggest weekly loss since July 2017.
That undoes late-March's reversal of outflows in US gold ETFs – growth which "
coincided with a rally in gold
in US Dollar terms linked to the Fed's adoption of a more neutral monetary policy stance," according to a note from the mining-backed World Gold Council.
"In March," it goes on, "gold trading volumes [worldwide] increased 15% above the 2018 averages...[and] sentiment and positioning in Comex futures continued to increase from their lows, as the price of gold moved higher during the second half of the month.
"However, these levels still remain below historical averages."
Despite what one analyst calls the "accelerating decline" of former gold No.1 South Africa's gold mining output, the mining stocks in South Africa, the No.1 platinum producer nation, this week touched the highest prices
since the peak of 2011
.
"Moving into 2019, social license to operate is [also] becoming an increasingly important factor in assessing investments and in raising capital," EY goes on.
"Risks associated with environmental policies and safety will take a greater role in the diligence undertaken around capital investment decisions."