Gold Gains But Silver Price Leaps Despite Plunge Towards Recession in Asian Exports and New Brexit Warning
Thursday, 7/18/2019 13:38
GOLD PRICES edged back from 2-week highs versus a rallying US Dollar in London trade Thursday, retreating as silver extended its jump despite weak Asian data sparking fears of a global economic recession.
After the pace of US house-building showed a steep decline for June, new figures from Japan today said the world's third largest economy saw its exports sink by 4.7% over the first half of 2019, led by a plunge in demand from Asian neighbors amid the US-China trade war.
Singapore's GDP is expected to show "tepid" economic growth of just 0.1% for the April to June quarter.
Despite finding three-fifths of its annual demand from industrial uses however, silver today hit 5-month price highs above $16.10 per ounce, jumping 5.9% for the week so far.
Platinum prices
also beat gold's gains, showing a 2.3% rise from last Friday's finish.
Historically the Gold/Silver Ratio has averaged 56 over the last 50 years.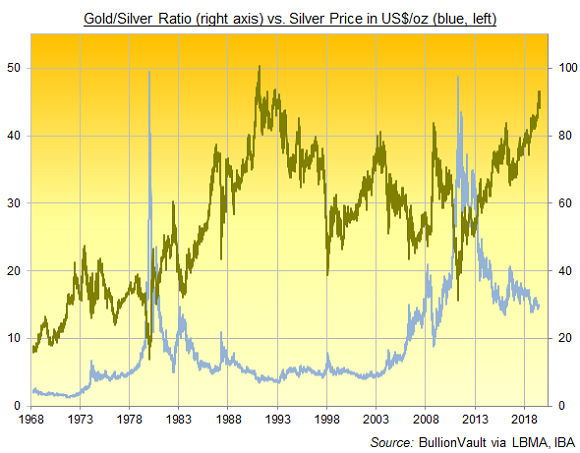 The gold price in Euro terms meantime hit a new 6.5-year high at €1272 per ounce at the start of Asian trade overnight, retreating €5 by lunchtime in London.
Since falling last October to the cheapest level since
the eve of the 2016 Brexit referendum
, in which Johnson led the victorious 'Leave' campaign, gold priced in British Pounds has now risen 27.8%.
That compares with a 19.7% rise in US Dollar terms and a 23.1% rise for gold in Euros.
Brexit uncertainty and falling economic confidence "together [may]
push the [UK] economy into recession
," says the latest
Fiscal Risks Report
from the government's Office for Budget Responsibility, "with asset prices and the Pound falling sharply" if the UK quits the EU with 'no deal' in place on the current deadline of 31 October.
"Real GDP falls by 2% by the end of 2020 and is 4% below our March forecast by that point."
MPs will today
vote on the 'Benn amendment'
, aimed at blocking the Government from proroguing Parliament to prevent politicians from stopping a no deal Brexit.