Silver 'Undervalued' on Ratio to Gold as UK Eyes 'Soft Brexit', Traders See 95% Chance of Fed Rate Hike
Tuesday, 6/13/2017 13:43
GOLD and SILVER prices slipped again Tuesday in all major currencies, retreating to one- and 3-week lows respectively as world stock markets rallied despite fresh political wrangling and uncertainty around the UK's general election and looming Brexit negotiations.
One-time Conservative leadership candidate Michael Gove – now returned to front-bench politics – claimed Prime Minister Theresa May is
willing to "work with"
the opposition Labour Party on what's commonly called a 'soft' Brexit after last week's result crushed her majority in Parliament.
Germany's finance minister Wolfgang Schaeuble meantime told Bloomberg that the UK "would find open doors" if it reversed course and chose to stay within the European Union's trading, legal and political group.
"[But] it's not very likely."
The gold price today
touched $1262 per ounce, down 2.5% from last week's high, while silver slipped twice as fast to trade beneath $16.80 per ounce.
"Silver [has come] under pressure...clearly dragged down by base metals," says the latest daily commodities note from German financial services group Commerzbank.
"The underperformance of silver as compared to gold," it says, "has driven the gold/silver ratio back up to nearly 75" – a one-month high last beaten during the run-up to last June's Brexit referendum in the UK.
"The gold-silver ratio," explained a research note last week from commodity specialists Mark Keenan and Michael Haigh at French investment bank Societe Generale, "is the ratio of the price of gold to the price of an equivalent weight of silver.
Showing the number of silver ounces needed to buy 1 ounce of gold, it "is widely used to identify overbought and oversold conditions," the SocGen analysts said, "where a high value of the ratio is often viewed as a signal that silver is undervalued relative to gold."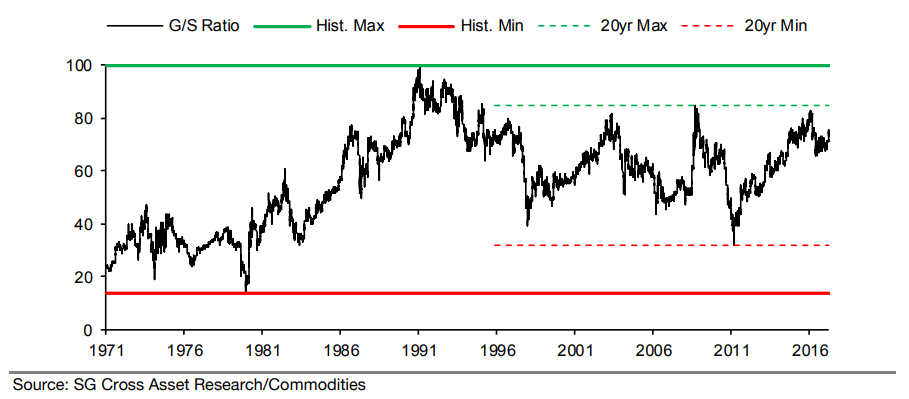 "Based on our analysis of how gold and silver prices have behaved at ratios above 70, we suggest selling gold and buying silver."
The Gold/Silver ratio held at 75 at Tuesday's AM benchmarkings in London, with gold fxing at $1261.30 per ounce and silver then fixing at $16.82 at midday.
Silver holdings in the giant iShares SLV trust fund (NYSEArca:SLV) were unchanged Monday at a 1-month low as investor interest kept the number of shares in issue flat for the 5th session running.
Bullion backing the giant SPDR Gold Trust (NYSEArca:GLD) was also unchanged but at a 6-month high.
"Gold saw some of its recent risk premium wiped away on Friday," says a trading note from Swiss refiners and finance group MKS Pamp in Geneva, "sliding below the $1270 support as the greenback turned higher.
Looking ahead to Wednesday's US central bank decision, "Although the market has priced in a near 95% probability of a [Fed rate] hike," MKS goes on, "we are likely to see volatility around the precious complex leading into the decision as well as following the statement and media conference."
Having put the probability of the Fed hiking to a ceiling of 1.25% at just two-in-three this time last month, betting on interest-rate futures this morning put the odds at more than 95%, albeit down from Monday's 99% certainty.
"Resistance remains unchanged at $1295.70," says bullion bank Scotia Mocatta's New York team, pointing to the April high which gold failed to beat last week.