Gold Prices Extend Bond Sell-Off Plunge, Stock Markets Defy Weak PMIs as Eurozone Inflation Slows Again
Tuesday, 10/01/2019 14:19
GOLD PRICES fell to new 8-week lows against a rising US Dollar on Tuesday, starting October almost $100 below early September's 6-year highs as longer-term interest rates rose further in the government bond market.
With gold touching $1459 per ounce, silver on Tuesday hit 6-week lows against the Dollar, briefly dipping below $17 per ounce – some 14.0% below early September's 2-year high.
Platinum meantime steadied at $880 after sink $50 per ounce inside 9 hours on Monday.
"Gold is getting hammered!" said one multi-asset fund manager on Twitter amid Monday's plunge in precious-metal and bond prices.
Monday's slump in bond prices came as Mario Draghi – now retiring as ECB President – urged Eurozone governments to increase their spending,
telling the Financial Times
that fiscal stimulus is "urgent".
New data from the IHS Markit surveys confirmed Tuesday that manufacturing activity across the 19-nation Euro union shrank in September at the
worst pace since the currency zone's 2012 crisis
over Greek, Portuguese, Irish, Spanish and Italian government debt.
"Eurozone bonds...unfazed by weak inflation,"
says a headline on Reuters
, with German Bund prices falling and yields therefore rising, leading a jump in borrowing costs for France, Italy, Spain and all the other 15 single currency members.
Having ended August at a new record-low of -0.70%, Germany's 10-year Bund yield rose over 13 basis points in September, its sharpest move in 12 months.
Ten-year US bond yields also made their sharpest rise in a year, taking the rate offered to new buyers up from August's 3-year low of 1.50% to 1.68% on Monday as the debt's price fell.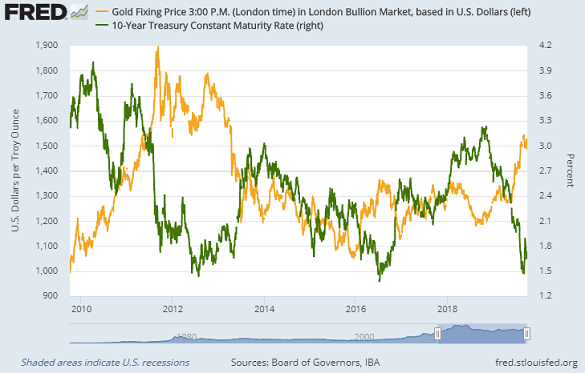 With both Shanghai and Hong Kong closed for the 70th anniversary of Mao Zedong founding the People's Republic of China – marked by
"great goose-stepping!"
in Tianamen Square's annual military parade, and by water cannon, tear gas and rounds of
live ammo fired at anti-Beijing protesters
in Hong Kong, some throwing petrol bombs – Asian stock markets edged higher.
The government of Japan meantime struggled to sell a new tranche of public debt to the bond market after the central bank in Tokyo said it will curb its QE bond purchases in October and the state pension fund announced a move to buy more foreign assets.
Those announcements "had a huge psychological impact," Bloomberg quotes one Tokyo strategist, making "investors reluctant to buy" as the Bank of Japan and GPIF stand aside.
2019's two US rate cuts so far are
just "a mid-cycle adjustment"
rather than the start of protracted easing, said Fed voting member Charles Evans in a speech in Frankfurt today, pointing to "solid" GDP and wage growth in the world's largest economy, where a "vibrant" labor market now shows the lowest unemployment rate in 50 years.
But alongside the slump in manufacturing PMIs, falling inflation "
should be something to worry about
," reckons Japanese bank Mizuho's rates strategist Peter Chatwell, and should "allow the [bond] market to firm up."