Gold Price Erased Wednesday's Gain as Investors Wait for Powell's Speech, Expecting the Fed to Loosen 2% Inflation Targets
Thursday, 8/27/2020 13:40
GOLD PRICES declined this Thursday morning after climbing during the last session while the markets await today's highly anticipated speech from Federal Reserve Chair Jerome Powell writes Atsuko Whitehouse.
Spot gold dipped 0.7% to $1939 per ounce after gaining 1.2% during the last session, while the dollar index - a measure of the US currency's value versus its major peers - held the level just above a two-year low.
The yield on 10-year Treasuries - the world's benchmark bond - remained flat, after rising each day this week.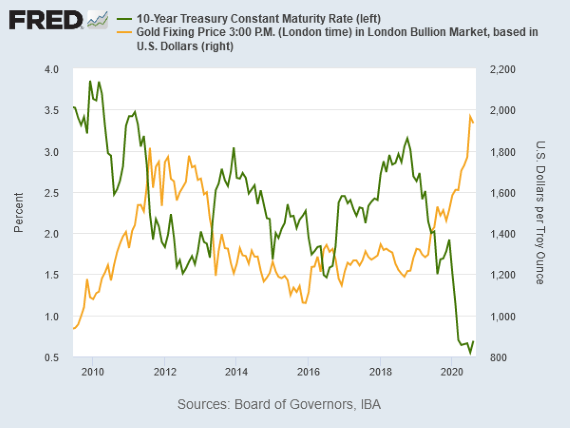 Powell is scheduled to begin his speech at 13:10 GMT at the Fed's annual central bankers' conference, with investors looking for cues on inflation and monetary strategy.
"The main gist of the message is likely to point to a desire to overshoot inflation but to no specific policies for getting there," Roberto Perli and Benson Durham of Cornerstone Macro wrote in a note on Wednesday.
"There is a perception that the Fed is likely to loosen up on its 2% inflation target, even if that is not announced or alluded to tomorrow," said StoneX analyst Rhona O'Connell in her latest note, pointing to declining rates of TIPS (Treasury Inflation-Protected Securities). The five-year TIPS index is currently yielding minus 1.07%, with the 30-year TIPS yielding minus 0.35%.
Gold is often thought of as an inflation hedge and that is the long-term appeal for most investors holding precious metals today. A recent BullionVault
survey
found that the No. 1 motivation to buy gold was fear of currency debasement and inflation.
The Federal Reserve's annual economic symposium, an event that is usually held in the mountain resort of Jackson Hole, Wyoming. This year it is being conducted virtually because of the pandemic. After the symposium and the mid-September policy meeting, Fed officials will not meet again until the day after the US presidential election taking place on 3rd November 2020.
US-China tensions over the South China Sea escalated on Wednesday with Beijing firing four missiles into the waters around the same time as the Trump administration took action against Chinese companies that helped set up outposts in the disputed region.
In the last three weeks, China
communicated
four separate naval exercises along its coast, from the Bohai Gulf in the north to the East and Yellow Seas and South China Sea, along with other exercises it said were aimed at "the current security situation across the Taiwan Strait".
Last month the Trump administration explicitly rejected China's expansive maritime claims in the region and for the first time sent aircraft carriers to the waters to conduct military exercises.
Gold prices at the Shanghai Gold Exchange in China eased its historic discount to London, retreating to $57 per ounce on Thursday as the central bank in the metal's No.1 consumer market set the midpoint rate at a new seven-month high of 6.8903 per dollar.
Since the Covid-19 pandemic begin in Wuhan around New Year and then struck other cities in Hubei Province at the end of January, that premium flipped to a record discount, hitting a peak at $88 per ounce on 19th August.
European gold prices edged lower by 0.4% to €1642 per ounce, while European shares fell, despite Wall Street hitting its 5th consecutive record high on Wednesday and the MSCI world share index also rose to its highest ever.
Prices for UK investors also dipped 0.5% to £1470 per ounce.
Spot silver edged lower by 0.6% to $27.29 per ounce after rising 3.5% during the previous session, keeping the
Gold/Silver Ratio
– which tracks the two formerly monetary metals' relative prices – down to 71, a 3-year low value for gold versus silver.
Platinum also dipped 0.6% to $934 per ounce, almost giving back the gains it made on Wednesday.
Oil prices held steady on Thursday amid a massive hurricane in the Gulf of Mexico racing towards the heart of the US oil industry, which has forced oil rigs and refineries to shut down production.
The threat from Hurricane Laura, which made landfall in Louisiana early this Thursday morning saw winds of 150 miles per hour, has pushed US West Texas Intermediate (WTI) crude prices higher this week.