Gold Prices Touch 3-Week High as Iran and China Push Back Against US Demands
Wednesday, 5/08/2019 14:28
GOLD PRICES popped to 3-week highs against the US Dollar on Wednesday as Iran pushed back against US sanctions over its nuclear program and new data showed exports of Chinese goods slumping amid the ongoing US-China trade dispute.
European stock markets edged higher overall but Asian equities closed sharply lower for the day, extending yesterday's near-2% drop on Wall Street.
Writing to China, France, Germany, the UK and also the European Union, "This is to save the [deal] not destroy it," said Iran's leader Hassan Rouhani,
vowing to start enriching uranium
in 60 days – something Washington
already accuses it of
– if the US doesn't cease its unilateral move to sanctions.
New data from China meantime said the world's second largest economy saw
imports jump but exports fall
year-over-year in April, slashing its trade surplus with the rest of the world almost in half to $13.8 billion.
US President Donald Trump's threat at the weekend to impose heavy new sanctions on Chinese imports came after
Beijing "deleted its [agreed] commitments"
to a new US-China trade deal from a 150-page document cabled to Washington late Friday, the Reuters news agency claims.
US Secretary of State Mike Pompeo was today due to
warn Nato-partner the UK
over allowing telecoms equipment from Chinese tech giant Huawei in its 5G infrastructure.
Adding $10 for the week so far, Dollar gold prices rose 0.5% in Asian and London trade Wednesday despite yet more strong US data yesterday.
After both first-quarter corporate earnings and
GDP growth beat Wall Street
forecasts, along with April's official estimate for
non-farm payrolls growth
, new data Tuesday showed job openings in the world's largest economy growing back towards January's series record above 7.5 million in March.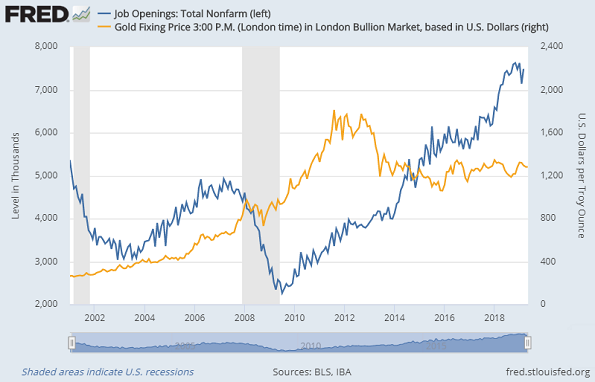 Investing in the giant SPDR Gold Trust (NYSEArca: GLD) – the world's largest gold-backed ETF fund – ended yesterday virtually unchanged near the smallest since October, needing fewer than 740 tonnes of backing despite the trust's share price rallying almost 1.0% from last week's drop to new 2019 lows.
Gold premiums in both China and India, relative to quotes in the world's wholesale hub of London, both eased back on Wednesday after touching multi-year highs last week as US Dollar prices retreated.
Shanghai premiums last week touched $25 per ounce
according to data
compiled by the mining-industry backed World Gold Council, the largest incentive for new imports of bullion to the No.1 consumer nation since the immediate aftermath of Donald Trump's election as US president in late 2016.
Gold premiums in India, net of the No.2 consumer nation's heavy 10% bullion import duty, meantime ended last week at almost $15 per ounce, their highest since the previous Congress Party government
abandoned its near-ban on inflows
through the so-called 80:20 rule in late 2014.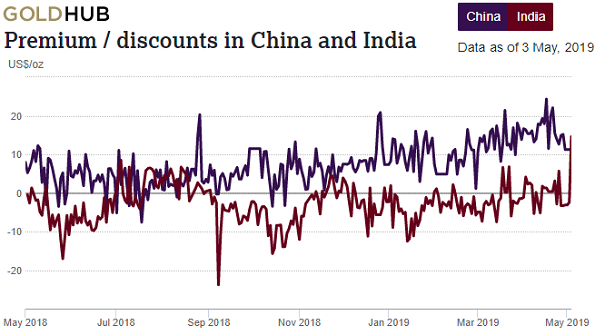 With domestic Rupee prices holding strong, "People
preferred lightweight wearable jewelry
and diamonds" to buy on Tuesday's Akshaya Tritiya festival, one jeweler in Pune tells the
Times of India
today.
Another dealer reports 15-20% sales growth from this time last year, but a third says growth was nearer 10%.
Euro gold prices today briefly touched €1153 per ounce – erasing all of last week's 2.0% drop – while
the UK gold price in Pounds per ounce
rose more than 2.0% for the week so far to reach above £990 as campaigning got underway for the European Parliament elections Britain was supposed to have avoided by leaving the EU back in March.
Ranking a close third behind the ruling Conservative and opposition Labour parties in early opinion polls, ex-UKIP and now Brexit Party leader Nigel Farage today
denied he is "a conspiracy theorist"
after appearing repeatedly on now-banned-from-Facebook Alex Jones' US shock-site Infowars.