Gold Prices Hit 3-Week High as 'Trumpflation' Fails Ahead of Obamacare Vote, Silver & Platinum Lag
Wednesday, 3/22/2017 13:56
GOLD PRICES hit new 3-week highs in London trade Wednesday, rising above $1247 per ounce as Asian stock markets closed sharply lower and European equities dipped on what pundits and analysts called worries that the 'Trump reflation trade' is fading.
Failure to pass tomorrow's vote on the new US President's repeal and replacement of Barack Obama's Affordable Care Act "could imperil tax and spending reforms" Bloomberg quotes "leading Republicans".
Commodities fell across the board while government bond prices rose as world equities repeated yesterday's 1.5% loss in Wall Street stocks.
With gold prices reclaiming their level of 1 month ago, silver and platinum both struggled in contrast.
The more industrial precious metals held 2.9% and 3.8% lower respectively from this point last month in US Dollar terms.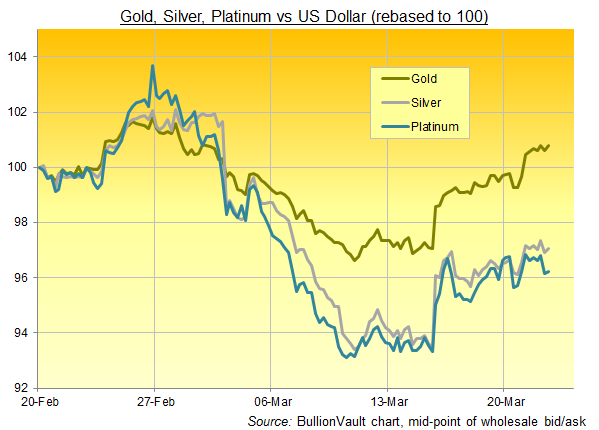 The New York-listed SPDR Gold Trust (NYSE:GLD) yesterday expanded by 1.4 million shares, some 0.5%, as investor demand for the gold-backed ETF grew for only the 17th day so far in 2017, barely half as often as during the same period of 2016.
Taking the GLD's gold holdings to a 3-session high of 834 tonnes – equal to some 100 days of global gold mining output – that also made Tuesday only the third time in almost 6 weeks that the world's
largest gold-backed ETF
met increasing investor demand on a rising gold price.
"The lack of strong conviction towards gold that has prevailed so far this year suggests that the recovery...has been
driven more by short-covering
than longs rebuilding positions significantly," says a note from Swiss investment and bullion bank UBS, quoted by
Barron's
.
"If US economic stimulus reignites the 'Trumpflation' trade," says Jonathan Butler at Japanese conglomerate Mitsubishi, "precious metals could once again lose out to risk assets."
For now however, "Crude oil's fall below its 200-day moving average for the first time since November...calls into question the argument that rising inflation will underpin [US Fed] rate rises in the coming months," Butler says – "[a] positive for gold."
Gold prices in China – the metal's No.1 mining, importing and consumer nation – meantime closed at new March highs even as the Yuan rose once more versus the Dollar overnight.
Compared to the global benchmark of London settlement,
Shanghai's daily 'fix'
showed a premium of $12 per ounce – in line with the 2017 to date, but 4 times the city's previous typical incentive to new shipments.
Shares in China's Tencent Holdings (HKG:0700) today fell 1.6% from Tuesday's new all-time high after the internet and mobile services giant reported annual profits up 42% on turnover up 48% for the 12 months ending 31 December.
Already in 2017, TenCent has added "microgold" trading and transfers to its WeChat messaging and payments app,
launching in time for
late-January's Chinese New Year as a new version of the "lucky money" traditionally gifted in red envelopes to celebrate birthdays and festivals.