Gold Prices Spike on US Election Count as Trump-Biden Uncertainty Whips Financial Markets
Wednesday, 11/04/2020 13:28
GOLD PRICES whipsawed sharply Wednesday morning, almost erasing the week's previous 2% gain before rallying back above $1910 per ounce as vote-counting continued in 2020's hotly contested US presidential election.
Spiking to $1916 as US polls began closing last night, gold prices then sank by $30 per ounce before regaining almost all that drop by lunchtime in London.
Global financial markets also echoed but lagged the dramatic action when current White House incumbent Donald
Trump won the 2016 election
against Hillary Clinton, as challenger Joe Biden edged ahead in both the popular vote and electoral college for the presidency, but the all-important Senate looked to be held by the Republicans.
That saw longer-term interest rates fall at the fastest 1-day pace since April, down 10 basis points on 10-year US government bonds to 0.80% per annum, reversing the last week's rise.
But European equities then turned a 1.2% drop into a 1.1% gain, and S&P futures jumped to predict a 1.3% rise at today's New York open, more than reversing their overnight drop.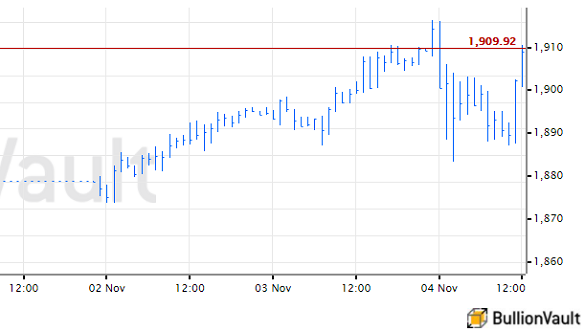 Volatility hit the FX market hardest, with the Dollar knocking the British Pound more than 2 cents lower after Cable spiked near 2-week highs, while Euro touched a 1-week high before sinking to its lowest against the US currency since late-July, only to regain more than two-thirds of its drop before the start of New York trade.
Commodity markets meantime edged higher Wednesday lunchtime, taking Brent crude oil nearly 8% above last week's 5-month low.
"Millions and millions of people voted for us," said Trump, "but a very sad group of people is trying to disenfranchise that group of people, and we will not stand for it."
"Pre-election [a] Blue Wave was seen to be [the]
most risk-friendly outcome
," says Holger Zschaepitz at Germany's
Welt
newspaper, referring to stock-market shares and corporate bonds. "Now [the] presidential election could still go either way, but markets not overly concerned."
Customers of UK gambling exchange Betfair had Biden as the favorite at 3/10 as New York's financial markets opened, with odds offered on a Trump victory
lengthening fast to 7/2
.
With 15% of seats still to be called, the Democrats also edged ahead of the Republicans in Congress, but Biden's party lagged Trump's in the more important race for the Senate.
"With the Republicans looking increasingly likely to hold the Senate," says brokerage StoneX's Rhona O'Connell, "Treasuries have surged [in price] on expectations of a reduced stimulus package...[with] more wrangling and potentially drawn-out negotiations on the cards."
Despite that rise in T-bond prices pushing interest rates lower, "Gold eased overnight but remains mired in its range," O'Connell says, "and it's likely to stay that way until we have clarity."
"The confidence that market participants had earlier about a clear result is slipping," said Harshal Barot, senior research consultant for South Asia at Metals Focus.
"There's still a lot of uncertainty ahead for the global economy in terms of rising virus cases and fresh lockdowns," says specialist consultancy Metals Focus' Harshal Barot, meaning
gold investment demand
is likely to stay strong.
While the giant SPDR Gold Trust (NYSEArca: GLD) ended Tuesday unchanged in size, the next largest gold-backed ETF – the iShares product (NYSEArca: IAU) expanded by 0.5% to reach a new record for shares in issue.
The iShares Silver Trust (NYSEArca: SLV) meantime saw light liquidation by investors, extending its retreat from mid-August's new record size to 3.7%.
Silver prices today
tracked gold higher, lower and higher once more, nearing last night's 1-week highs above $24 per ounce.