Gold Prices Struggle to Push Above $1700 despite Renewed US-China Tension as Oil and Stocks Rise with Lockdowns Easing
Tuesday, 5/05/2020 14:08
GOLD PRICES firmed Tuesday morning with the "rekindling" of US-China trade tensions, while global stocks and oil prices are buoyed by cautious lockdown easing writes Atsuko Whitehouse.
Spot gold struggled to push above $1700 per ounce as the Dollar Index – a measure of the US currency's value versus its major peers – rose 0.4%, following Monday's sharp increase.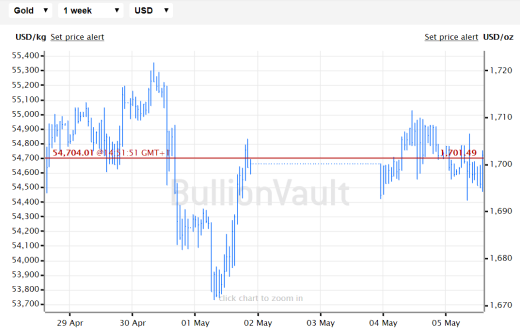 "Decent producer selling between $1705-1710, as well as US stocks clinging to positive territory, kept the metal from running higher," stated a trading note from Swiss refining and finance group MKS Pamp earlier.
"The rekindling US-China trade tensions and rhetoric from the White House continues to evoke some safe-haven buying in the precious sector, with gold prices punching back through $1700 yesterday."
It was reported late on Monday that the White House is "turbocharging" an initiative to strip global industrial supply chains from China, as it considers punitive tariffs against Beijing for its handling of the coronavirus outbreak, while there is some talk about
voiding
government debt to China.
The official Chinese news agency Xinhua on Monday accused US Secretary of State, Mike Pompeo and White House trade advisor Peter Navarro, of covering up and blaming others, instead of reflecting on what is going wrong in their own country.
"We have argued tariffs and COVID-19 are cousins (of protectionism), thus Gold – usually a decent macro leader – is maintaining some COVID-19 premium, as markets begin to price in what trade wars failed to do (an escalating US-China blame game, real bordering up of nations and economies where friends/supplies chains are carefully chosen)," says the latest bullion-market note from Canadian financial services group Scotiabank.
Oil gained for a fifth day, on course for its longest upward streak in nine months on expectations that fuel demand will start to recover as countries begin loosening coronavirus restrictions and crude supply cuts took effect.
The governors of California and New York gave more optimistic statements for reopening businesses on Monday after several other countries including Spain, Italy, Nigeria, India, and Malaysia also tentatively eased lockdowns.
Goldman Sachs Group Inc. and Morgan Stanley economists also said there is evidence the world economy is starting to recover from the coronavirus and the restrictions placed on businesses and consumers.
European stocks advanced on Tuesday, putting markets on track to end a three-session losing run even though a German court decision found the European Central Bank exceeded its powers with the Public Sector Purchase Programme and banned the Bundesbank from implementing it.
Gold prices for European investors edged up by 1% to €1566 per ounce as the Euro dropped against the US dollar on the back of the German court decision.
UK gold prices dipped 0.3% to £1365 per ounce as it was reported that the UK government pays nearly quarter of worker wages.
The UK government said it is paying 80% of the wages of more than 6 million employees via its scheme, which aims to help people put on leave due to the virus pandemic. The government has distributed £8 billion so far, the scheme is due to run through June 2020, suggesting that the total cost could exceed £30 billion.
Looking at other precious metals, silver prices dipped 0.5% to $14.77 per ounce, which pushed the gold/silver ratio to the highest figure in a month. Platinum prices were almost flat at $767 per ounce.
Comex gold futures meantime edged down 0.5% to $1704 per ounce, trimming the premium for New York settlement to $7 per ounce over loco-London physical prices Tuesday lunchtime, around 3 – 4 times the typical level but near the tightest location spread since the Covid-19 lockdown and the suspension of production by gold refineries. The premium had surged to
a record $100
in late March.
As Switzerland relaxed coronavirus lockdown measures, two of the world's biggest gold refiners, Valcambi and Argor-Heraeus
said on Monday
that they are restoring almost all operations.
Valcambi and Argor-Heraeus expect to operate at 85% and 90% of capacity respectively, and PAMP have said that it "continues to progressively increase its processing capacity."
Together with PAMP, they process about 1500 tonnes of gold a year – equivalent to a third of global supply.