Gold Price +0.6% vs 'Gradual Rate Rise' Dollar as ECB Back-Tracks on QE, Sterling Gains Amid Brexit Wrangling
Thursday, 7/13/2017 14:56
The GOLD PRICE in Dollars eased back but held 0.6% higher for the week so far against the Dollar on Thursday as world stock markets rose following Janet Yellen's comment to lawmakers that the US Federal Reserve will raise interest rates only "gradually".
The British Pound meantime rose but London's FTSE-100 share index held almost 2% below last month's new record highs as Westminster's minority Conservative Government published its "Great Repeal Bill" for ending European Union supremacy over UK law when Brexit formally happens in 20 months' time.
Trading at $1220 per ounce, gold prices touched 1-week highs versus the Euro at €1075 as the single currency fell after a voting member of the European Central Bank said its current policy of quantitative easing is unlikely to end before the Brexit deadline of 2019, reversing what many analysts had seen as a co-ordinated switch to 'hawkish' comments from ECB policymakers.
Beyond that, said Yellen, "the longer-run neutral level of the federal funds rate is likely to remain below levels that prevailed in previous decades."
Here in London meantime, the minority Conservative Government of Theresa May presented what it called "
The Great Repeal Bill
" to Parliament, proposing how current European Union laws should be assumed and continued by the UK on the day of Brexit in March 2019.
"The Great Repeal Bill is a completely absurd name" for the UK's post-Brexit law, according to former deputy prime minister Nick Clegg – who
lost his seat
in last month's General Election –because it is in fact "a duplication bill" giving continuity to existing EU legislation.
One clause, however, says that "The [EU] charter of fundamental rights is not part of domestic law on or after exit day" – a change
already challenged
by the Opposition Labour and Lib-Dem parties, who said they will vote against the Bill as it stands.
"I am not hearing any whistling,
just a clock ticking
," said the EU's chief Brexit negotiator Michel Barnier overnight, responding to UK foreign secretary Boris Johnson's claim that Brussels "can go whistle" for a large divorce payment from London.
The Office for Budget Responsibility claimed today that, if Brexit shrinks the UK economy's growth by just 0.1% per year over the next half-century, it risks growing the nation's public debt-to-GDP ratio by one half.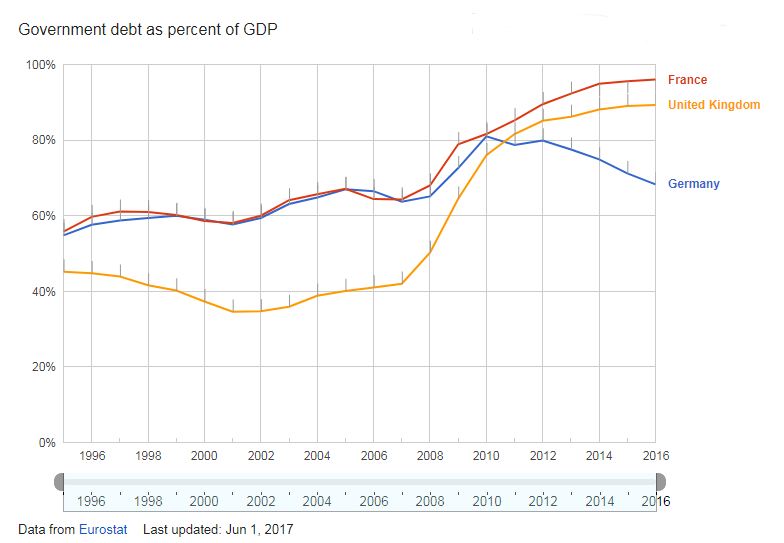 Without a new customs agreement in place by the March 2019 deadline for exit, said the UK's National Audit Office chief Sir Amyas Morse today, the country's flows of
imports and exports face "a horror show"
of officials having to manually process each consignment.
"In the case of an unorderly withdrawal," said a joint letter from 8 pharmaceutical trade associations on Thursday, "[it could] lead to
potential supply disruptions
of life-saving medicines" across Europe's "highly integrated" drugs market.
New data yesterday put the UK's jobless rate at its
lowest since July 1975 at 4.5%
, while average wage growth of 2.0% beat analyst forecasts but fell further behind inflation in the cost of living, last put at 2.9% per year.
Latest data from chartered surveyors today said UK house-price growth has
fallen to its weakest
since immediately after June 2016's Brexit referendum result.
Sterling's rise on the FX market Thursday knocked the
UK gold price in Pounds per ounce
£10 below yesterday's 7-session highs of £952, erasing the week's earlier 1.2% rally from new 2017 lows.
Deputy Bank of England governor Ben Broadbent said in a speech this week he is "not ready" to vote for interest-rate hikes, calling it "a bit tricky at the moment."
Canadian gold prices meantime bounced 0.5% after touching new 6-month lows on Wednesday's widely-expected central-bank interest rate rise.