Inflation Forecasts Recover Covid Plunge But GLD Outflow and Gold Price Losses See 2021 Targets Cut
Wednesday, 11/25/2020 14:12
GOLD PRICES steadied in Asian and London trade Wednesday, rallying $15 per ounce after hitting $1800 for the 1st time in 4 months as inflation forecasts rose but longer-term interest rates fell amid a raft of new stimulus planning to try offsetting the global economic depression caused by Covid lockdowns.
"We see a risk of rising long-term interest rates," says the new 2021 commodities outlook from US brokerage Bank of America Securities, "[and this] will put gold's rally on pause until inflation expectation starts rising faster."
But 10-year inflation expectations today reached 1.77% per annum according to bond-market prices, some 0.89% above 10-year interest rates – the biggest gap in 4 weeks – and matching late-August's recovery of New Year 2020 levels.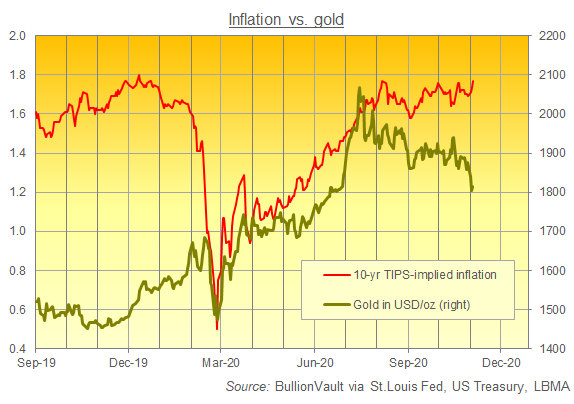 Led by analyst Michael Widmer, BoA's team hiked its longer-term gold price forecast from $2000 to $3000 per ounce in April, and while "ongoing fiscal and monetary stimulus should push the yellow metal above $2000 again," that higher level now looks "tricky".
A pullback was "inevitable" says Aakosh Doshi, head of commodities research at US financial giant Citi, but the vaccine news will only slow, not finish, gold's underlying rise.
Having
forecast $2000 gold in February
this year – before the Covid Crisis hit Western financial markets – Doshi says the metal will regain that level in 2021 "as long as the Fed remains dovish enough."
With gold prices extening this week's plunge in Tuesday, giant
gold-backed ETF
the SPDR Gold Trust (NYSEArca: GLD) yesterday saw its sharpest 1-day liquidation since mid-March's Covid Crash hit all financial markets, shrinking the ETF by 1. 1% to its smallest size since early July.
The smaller and cheaper iShares Gold product (NYSEArca: IAU) held unchanged in contrast, but still hasn't expanded for 7 sessions.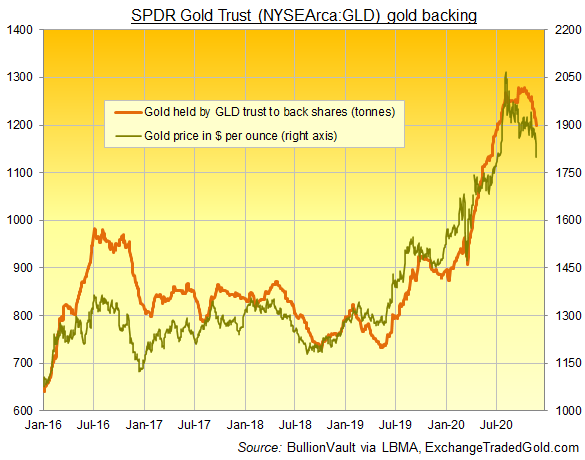 Government borrowing in the UK – the world's 5th largest national economy, now set finally to leave the European Union on 31 December – will hit a peacetime record of £384bn ($512bn) in 2020, said finance minister Rishi Sunak in Parliament today, some £280bn of its specifically spent "to get our country through coronavirus".
Freezing public-sector wages and now forecasting that UK
unemployment will rise by 1 million
to 2.6m by mid-2021, the government paid £10bn more for personal protective equipment such as gloves, aprons and facemasks bought for health workers during the first wave of Covid-19 than it would have done if prices hadn't jumped, the NAO spending watchdog meantime said Wednesday.
In the US, and with Joe Biden already working with fellow Democrat politicians to push for a second round of stimulus spending before he moves into the White House in January, "The president-elect [is] saying
something should happen now
[because] the economy is at a very precarious moment," says transition-team advisor Jared Bernstein.
"Hawks have been sidelined and outnumbered" meantime at the European Central Bank, the
Financial Times
reports, with outgoing policymaker Yves Mersch "
preparing to take a final stand
" against more QE bond purchases, now at €3.5 trillion following the 19-nation currency bloc's Covid response.
Fiscal and monetary policies "will remain highly accommodative" following the pandemic, says global bank and London bullion market-maker HSBC, most especially with the incoming Democrat White House likely to push for a "bigger fiscal stimulus.
"All this should continue to provide gold with a reason to go higher in the medium to longer-term."
Short-term interest rates set by the US central bank proved more important for gold prices in the wake of the global financial crisis a decade ago, agrees US investment bank Goldman Sachs, repeating its
$2300 forecast for 2021
as inflation rises towards 3% per year – breaching the Federal Reserve's 2% target as the Fed says it would like – leading to "more inflows to gold in order to hedge it."
But gold prices have peaked together with "risk aversion" says Australian bank and brokerage Westpac, revising its view "as gold has been on a losing streak amid better economic data and more risk-on sentiment...in light of positive Covid-19 vaccine news."
Westpac's senior economist Justin Smirk now predicts average annual gold prices will fall below $1760 in 2021 and then drop to $1633 in 2022.
Gold in 2020 has so far average $1762 per ounce, a new all-time record 5.5% above the previous annual peak of 2011.