Gold Prices Lag Crude Oil's Spike on Saudi Drone Attack as China Data Worsen
Monday, 9/16/2019 13:20
GOLD PRICES jumped 1.6% at the opening of Asian trade on Monday, touching $1512 after a drone attack set fire to Saudi Arabia's Abqaiq oil refinery, the world's largest crude processing plant, writes Atsuko Whitehouse at BullionVault.
Oil prices surged by nearly 20% as trading opened after Saturday's attacks – claimed by Houthi rebels in neighboring Yemen but
blamed on their ally Iran
by the United States – knocked out more than 5% of the world's supply.
New data from China then showed the world's second-biggest economy slowing hard Monday morning.
Gold prices drifted back to $1504 per ounce by Monday lunchtime in London, some $20 above last week's new 1-month lows, as major government bond prices also eased back from an initial surge.
Having jumped faster than gold, silver prices then retreated 12 cents to $17.88 per ounce, letting
the ratio of gold to silver prices
hold above 84 – its highest level in 3 weeks.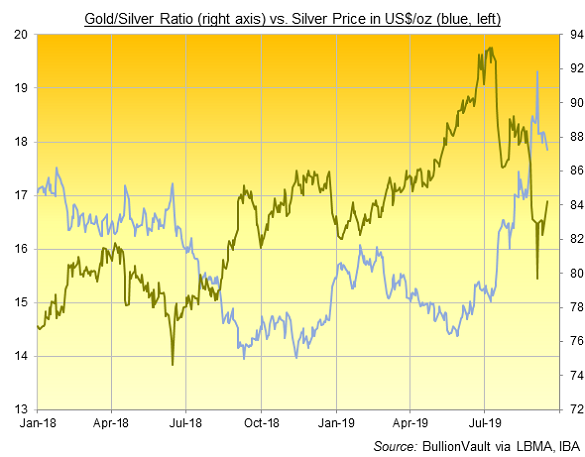 "The bigger issue is what premium markets will build in to reflect the risk of further attacks," reckons Kerry Craig at US investment bank J.P.Morgan's asset management division.
"Central banks are likely to look through the inflationary impact of higher oil prices but the
added geopolitical risk
to an already fragile backdrop will not go without notice."
With investors and traders now awaiting Wednesday's US Federal Reserve decision – widely expected to bring a small cut to interest rates – the Dollar on Monday held little changed overall while the 'safe haven' Japanese Yen and Swiss Franc both rose, as did commodity currencies the Norwegian Krone and Canadian Dollar.
China's industrial production slowed in August to its
weakest in 17.5 years
, Beijing's official statistics office said Monday, while factory investment and retail sales also slowed badly.
Gold prices in the metal's No.1 consumer nation rose to a near-$12 premium per ounce over London quotes, offering an extra 30% on the typical incentive for new imports.
The
UK gold price in Pounds per ounce
rallied sharply from 6-week lows, hitting £1207 as Prime Minister Boris Johnson headed for his first face-to-face meeting on Brexit with outgoing European Commission President Jean-Claude Juncker, set to leave the post on Halloween.
Euro gold prices also rose 1.3%, hitting €1361 per ounce while European shares fell after four straight days of gains.
Reassuring the energy markets that the US will release some crude oil from its strategic stockpiles, US President Donald Trump also said at the weekend that America believes Iran was behind the Saudi drone attacks, and
is "locked and loaded"
ready to retaliate.