Gold Hovers around $1500, Yuan Fixing Crosses the 7 Line, Global Bond Yields Stabilise after Drops and China adds More Gold
Thursday, 8/08/2019 14:50
GOLD PRICES edged lower on Thursday after hitting the key psychological level of $1500 per ounce yesterday for the first time since April 2013 after China sets Yuan fixing stronger than expected while global bond yields stabilised, writes Atsuko Whitehouse at BullionVault.
Spot gold jumped 2.2% to $1509 per ounce during the previous session after surprise interest rate cuts by central banks saw bond yields fall. The spot gold price is hovering around $1495 this Thursday lunchtime.
The People's Bank of China set the official reference rate for the Chinese currency at 7.0039 yuan per dollar, the weakest level since 2nd April 2008.
"It did cross the 7 line for the first time since 2008, although I think the market was expecting a much higher fix of which the preceding price action suggested. USDCNH fell sharply from 7.10 to 7.06, equities rose, US yields rallied, and gold plunged about $12.50 to the daily low'" says Swiss refining and finance group MKS Pamp in a trading note.
"Chinese trade data came in better than expected - exports +3.3% YoY vs-1.0% expected (-1.3% prior), imports -5.6% vs -9.0% expected (-7.3% prior) – which gave gold some reprieve, grinding its way back to $1500," the note continued.
The Philippines cut its benchmark interest rate by 25 basis point on Thursday, resuming policy easing after economic growth and inflation slowed.
Three further central banks delivered surprise interest-rate decisions as New Zealand and India led with larger-than-expected interest rate cuts, while Thailand's 25 basis point reduction was also a surprise on Wednesday.
Chicago Fed President Charles Evans signalled support for reducing borrowing costs further last night.
"You could take the view, as I have, that inflation alone would call for more accommodation than we put in place with just our last meeting," Evans told reporters in an annual interview in Chicago.
Betting that the Fed would cut 50 basis points at the next meeting in September has increased to 23.5% from 15.4% and a more than 25 basis point rate cut is 100%, according to the CME's Fedwatch tool.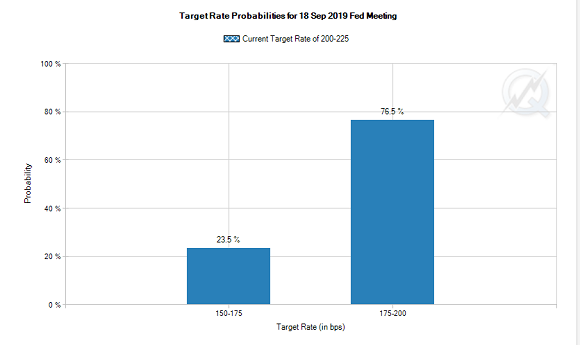 It also suggests traders are building bets that the Federal Reserve would cut rates three more times by the end of this year.
The yield on three-month US Treasury traded 29.8 basis points above that of the benchmark 10-year government bond at Thursday lunch time after it widened as much as 41.23 basis points during the previous session, the biggest since March 2007.
Germany's 10-year bond yield also rose 2.5 basis points to -0.56% on Thursday after falling for nine straight days, its longest decline since late 2015. It reached record lows alongside some of the riskiest nations in the Eurozone such as Spain and Portugal, which got precariously close to negative territory during the previous session. Germany's entire curve has been fully below 0%.
Thursday saw the world's largest gold-backed ETF – the SPDR Gold Trust (NYSEArca: GLD) – expand by 1% to 845 tonnes, the highest in 14 months as investor demand grew the number of shares in issue.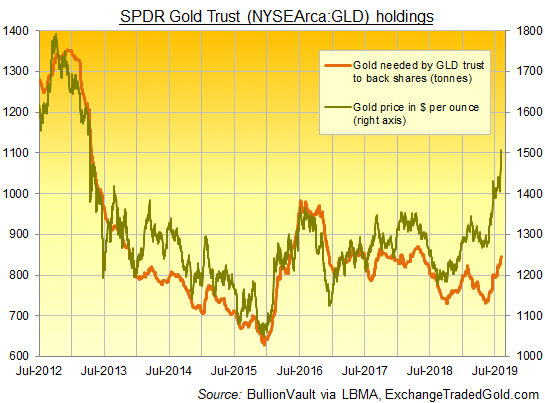 Goldman Sachs Group Inc. analysts predict that gold prices, already at six-year highs, will climb to $1,600 an ounce over the next six months.
"If growth worries persist, possibly due to a trade war escalation, gold could go even higher, driven by a larger ETF gold allocation from portfolio managers who still continue to under-own gold," Goldman analysts including Sabine Schels said in a note Wednesday. "Gold ETFs have recently built momentum almost as strong as in 2016, and we believe that can be maintained in the short-term."
The People's Bank of China has increased its gold holdings by more than 90 tonnes according to the latest data published on its website.
The Chinese central bank added close to 10 tonnes in July 2019, following the addition of about 84 tonnes in the seven months to June.
54% of Central Banks respondents expect global gold holdings to climb in the next 12 months, according to a recent World Gold Council survey.
Silver prices fell 0.5% today after the biggest jump in 3 years took it to a one year high of $17.21 per ounce. Platinum also dropped 0.7% to $861 per ounce.