Gold Price Tests New $1980 Record as Stock Markets Fall Despite Fed's Anti-Covid Slump 'Yield Curve Control'
Thursday, 7/30/2020 14:32
GOLD PRICES edged lower on Thursday after retouching this week's new record high of $1980 per ounce as US and then global stock markets sank following yesterday's failure to announce any new stimulus to fight the Coronavirus Crisis by the US Federal Reserve, writes Atsuko Whitehouse at BullionVault.
World No.4 economy Germany today reported its worst decline in GDP since 1970, plus the highest number of new coronavirus cases in six weeks.
Spot prices for physical bullion delivered in London today dipped 0.6% to $1954 per ounce after Powell pledged to fight the most severe economic downturn "in our lifetime".
The Dollar Index – a measure of the US currency's value versus its major peers – edged higher after hitting a 2-year low.
The yield on the benchmark 10-year US Treasury debt meanwhile moved lower as bond prices rose yet again, pushing down the rate of interest offered to new buyers just 1 basis-points above early March's all-time record low of 0.54% per annum.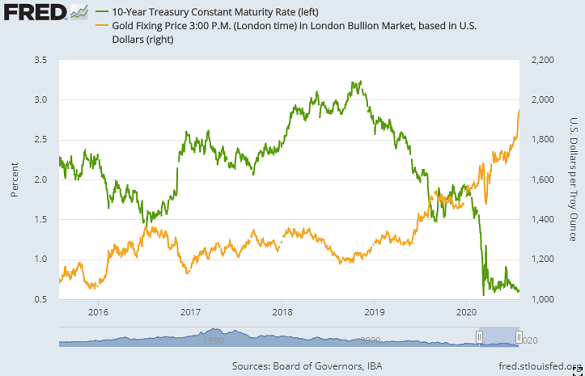 "Covid-19 created the perfect storm for gold investment as historic [central bank] liquidity injections and record low interest rates significantly cut the cost of carrying gold," says Louise Street of the mining industry's World Gold Council, presenting
new gold demand data today
.
"Consumer demand [in contrast] took a brutal hit," said Street, as global jewelry demand almost halved in the six months to June from the same period last year, reaching the smallest size on the lobby group's current data series, back to 2010.
Q2 jewelry demand was the lowest for at least 2 decades, according to the WGC's former data suppliers, Refinitiv GFMS.
Giant gold investing ETF the SPDR Gold Trust (NYSEArca: GLD) meantime saw light profit-taking on Wednesday's US Fed announcement, shrinking by 0.1% to need 1,242 tonnes of bullion backing, still over 5% larger for this month.
In contrast, cheaper competitor the iShares Gold product (NYSEArca: IAU) continued to grow, expanding 0.3% yesterday to reach a fresh record, needing 489 tonnes of backing.
Silver prices today
dropped nearly 4% to trade back at $23.30 per ounce, down almost $3 from Tuesday's fresh 7-year high.
Platinum also fell back, losing 2.3% on Thursday in London to hit $910 per ounce, widening its discount to gold to over $1000 per ounce.
At its peak in 2008, platinum traded more than $1000 per ounce above gold, but has since
fallen to trade at a discount
for the longest stretch of time since the 19th Century.