Gold Price Hits New 6-Week USD High as GDP Grows, Inflation Sinks, GLD Shrinks
Friday, 7/28/2017 14:18
GOLD PRICES jumped to breach yesterday's 6-week Dollar highs above $1265 per ounce Friday lunchtime in London as the US currency fell yet again on the FX market following very mixed GDP data from the world's largest economy.
Annualized US growth in gross domestic product matched Wall Street forecasts, jumping to 2.6% between April and June from the first quarter's 1.2% pace and led by a surge in consumer spending,
the Bureau of Economic Analysis said
.
But price inflation came in well below analyst predictions, slowing to just 0.3% on the PCE measure – closely watched by Federal Reserve policymakers – from the previous pace of 2.2%.
Silver outperformed gold prices as the Dollar fell back towards Thursday's 14-month lows against the world's other major currencies, gaining 1.1% for the week at $16.71 per ounce.
Platinum held lower, down more than $3 per ounce at $931.
Eurozone government bond prices slipped meantime, nudging longer-term interest rates higher for the 19-nation currency union after member states Spain and Greece reported
stronger-than-expected GDP growth
.
"Longer-term investors continue to be attracted to gold as a means of diversification and to hedge against rising uncertainty across other asset classes," says a new note from French investment and bullion market-making bank Societe Generale, looking at "relatively little changed" holdings of gold-backed ETF trust funds worldwide.
The largest such product however, the SPDR Gold Trust (NYSEArca:GLD), yesterday saw its fifth daily outflow of metal in a row as shareholders again liquidated stock.
Shrinking by more than 7% since this time in June, the GLD has now seen its second-worst ever month-on-month investor outflows against a backdrop of rising gold prices.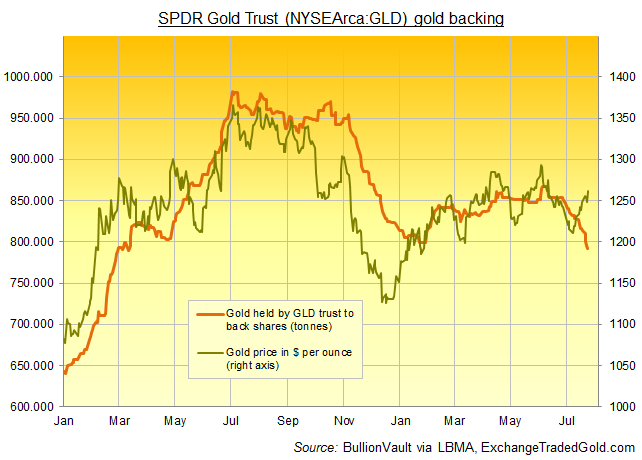 US consumer spending "is supported by very constructive household fundamentals," reckons Canadian bank RBC's chief US economist Tom Porcelli.
Revisions to end-2016 data today also said US households saved the smallest proportion of income since the eve of the global financial crisis 9 years earlier in October-December.
"I think the market is
much more worried about the inflation story
[after] buying the Fed's initial narrative that it was transitory," said Canadian bank BMO's US rate strategist Ian Lyngen this week after the US central bank kept rates and QE bond holdings unchanged.
Energy and other commodity prices rose Friday in terms of the weaker US Dollar, but global stock markets fell, extending yesterday's drop in New York's tech-heavy Nasdaq index after giant internet retailer Amazon – now accounting for
more than two-fifths
of all online sales in the US – reported a 77% drop in net income for the April-June quarter, thanks to heavy spending on new categories, countries and video content.
"Gold opened in Asia near the previous session's high," says a note from Swiss refining and finance group MKS Pamp's trading team, "and traded up to 6-week high $1264."
With Chinese gold prices hitting 1-month highs in Yuan terms, that saw Shanghai traders cut their premium above London quotes to $7 per ounce, MKS says, "and we saw the metal range-bound through the remainder of the day."
Indian gold discounts below London quotes meantime widened to the largest in 7 months, Reuters reports, with bullion dealers saying the No.2 consumer country's typically "weak" summer demand has been worsened by the price rise.
"In the local market, prices have [already] risen
due to the GST
[Goods and Services Tax] and... consumers are not comfortable with the price rise," the newswire quotes Mukesh Kothari at Mumbai dealer RiddiSiddhi Bullions.
Trading 0.8% higher from last weekend in Dollar terms as New York trade opened Friday morning, gold held dead flat versus the Euro at €1076 per ounce.
From 9-year highs hit immediately after Donald Trump's US presidential election, the Dollar has now lost 3% against the Yuan so far in 2017, and dropped 11% against the single currency Euro.