'Sell Rallies in Gold' Says SocGen as Price Drops vs Falling Dollar, China + India Premiums Rise
Thursday, 6/29/2017 13:55
GOLD PRICES fell against a falling US Dollar on Thursday, dropping below $1245 per ounce for the third time in 2 weeks even as the greenback hit new 13-month lows versus the Euro on the currency market.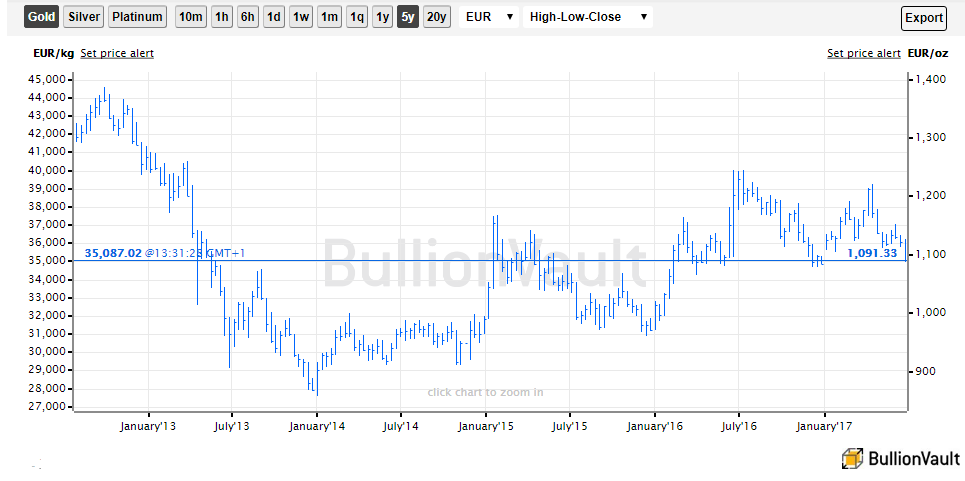 Raw materials prices rose across the board, with only cotton falling amongst major tradable commodities alongside precious metals according to Bloomberg data.
Both silver and platinum lost 0.9%, with the cheaper metal retreating from a new 2-week high at $16.90 per ounce.
Platinum prices fell back towards Monday's 7-week lows, dipping beneath $917 per ounce.
"Central bank rhetoric has bond markets in a spin," says Thursday's fixed-income note from French investment and bullion market-making bank Societe Generale.
Major government bond prices fell again Thursday, driving both UK and German 10-year yields up to their highest since late-March above 1.2% and 0.44% per annum respectively.
Germany's latest inflation report today defied analyst forecast for a slowdown, rising instead to 1.6% per year.
"Sell rallies in gold and silver," says a new presentation from their SocGen colleague, metals analyst Robin Bhar.
"Electoral uncertainty in Europe and political bickering in the US buoyed gold prices in Q2 [but] Fed tightening this year and in 2018 – whether in the form of higher interest rates or balance sheet deleveraging – will inevitably dent investors' appetite."
For silver, Bhar says, "a modest rise in industrial usage will be followed by a gradual weakening [again on] gradual US monetary policy tightening...along with a slowdown in key emerging economies, particularly China."
Wednesday's 10 cents rise in silver prices saw giant exchange-traded product the iShares Silver Trust (NYSEArca:SLV) shrink 0.2% as investors liquidated stock.
Needing 20 fewer tonnes of bullion backing by market close, the SLV's holding of 10,551 tonnes was virtually unchanged from either the start of 2017 or this point last year.
The Chinese Yuan rose Thursday to new 7-month highs against the Dollar, joining the Euro at its highest US exchange rate since Donald Trump won the presidential election in November.
That helped Chinese gold premiums – over and above the global benchmark of London settlement – rise despite little change in Yuan prices, nearing the strongest incentive for new bullion imports to the world's No.1 consumer market at $12 per ounce.
Gold premiums in India have meantime jumped to 7-month highs at $10 per ounce over official import prices,
Reuters reports
, because "People are advancing buying to avoid paying additional tax" after this weekend's application of 3% sales tax under the new GST regime according to Mumbai Jewellers Association VP Kumar Jain.
Data compiled by specialist analysts GFMS says India's gold imports rose over 300% last month from May 2016, the newswire adds.