Gold Prices Sink as Bond Yields Jump Faster Than Inflation Forecasts, Lockdowns Eased
Friday, 6/05/2020 14:47
GOLD PRICES sank to 4-week lows at $1681 per ounce in London trade Friday, losing over $45 for the week as major government bond prices also fell, pushing interest rates higher, following a shock jump in the US government's employment estimate.
But "improving sentiment as lockdown measures ease and data improves has buoyed [bond] yields," says Bloomberg, citing this week's steep 0.2 percentage point jump in 10-year US Treasury rates – the biggest increase since November.
Taking 10-year yields up from 0.65% to 0.92% per annum, that rise has outpaced this week's rise in US inflation expectations, with the 10-year breakeven rate rising from 1.15% to 1.28%.
Over the last decade, the rolling 5-week correlation between gold prices and inflation-adjusted 10-year US Treasury yields read 0.39 on average.
So far in 2020 that negative correlation for gold has strengthened to more than -0.72 against 10-year real rates.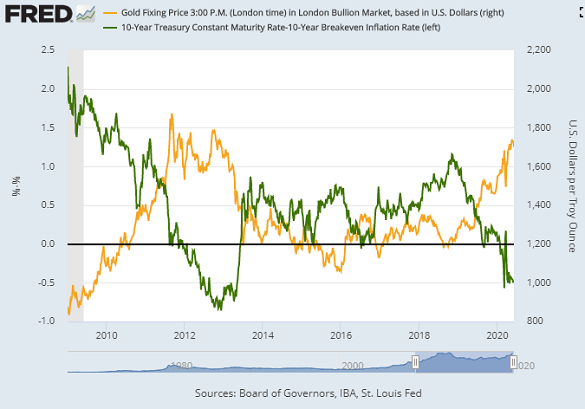 Euro gold prices also fell to 2-month lows Friday, fall to €1486 and dropping by almost one-tenth from mid-May's new peakas bond prices fell for all member governments except the 'weaker' members of Greece, Italy and Spain, buoyed yesterday by the European Central Bank almost
doubling the size of its pandemic QE
asset purchase plan.
European Union leaders now hope to agree a €750bn package of trans-regional aid and loans – funded by joint EU debt issuance – to boost a post-Covid recovery across the 27-nation bloc despite opposition among northern members led by Finland.
"Nobody slammed the door," said EU Commissioner for Economic Affairs Paolo Gentiloni to Bloomberg TV today.
"The majority of member states are in a negotiating position and knowing how it functions here in the union, a negotiating position brings an agreement."
The sell-off in US government bonds now risks accelerating, says a note from US finance giant Citigroup's strategists Bill O'Donnell and Ed Acton, because trend-following funds "have been long for all of 2020, and a break...could see a potential $80 billion in positions washed out."
Among gold-backed ETF trust fund vehicles, the giant GLD product on Thursday saw its first outflow of investor cash in more than 2 weeks, as did the No.1 silver ETF the iShares SLV product.
Gold prices in the metal's No.1 consumer nation China slipped today, but cut their discount against the global benchmark of London quotes to their smallest in a month at less than $10 per ounce, suggesting some level of recovery in domestic demand versus supply.
"Forget the personalities involved," said TV anchor Chris Wallace of US President Donald Trump's favorite news channel Fox overnight.
"To have some of the top current and retired military brass and the two most important religious leaders in Washington call you out...that's a bad week for any person.