Gold Price Rallies $10 But 'Targets $1200' as Trump Sacks Comey, N.Korea Prepares Nuclear Test
Wednesday, 5/10/2017 10:16
GOLD PRICES rallied $10 per ounce from new 2-month lows against the US Dollar on Wednesday morning, also rallying against other currencies after US President Trump shocked political pundits by sacking FBI director James Comey.
North Korea's ambassador to the UK meantime said
Pyongyang is preparing to conduct
a sixth nuclear weapons test, ratcheting up tensions with neighboring South Korea and China, as well as the US.
Officially sacked over his handling of the Hillary Clinton email investigation ahead of last year's White House election, Comey had now been investigating links between Moscow's Kremlin and the Trump campaign.
"Cryin' [Democrat leader] Chuck Schumer stated recently, 'I do not have confidence in him (James Comey) any longer.' Then acts so indignant.
#draintheswamp
," Trump tweeted in response to Schumer calling the sacking
a "big mistake"
.
"We think that gold's slide could perhaps extend to $1180-1200, an
area of good technical support
," Reuters quotes brokerage INTL FCStone's analyst Edward Meir.
Rallying 0.8% by mid-morning Wednesday in London, gold prices had fallen to $1214 per ounce in late US trade on Tuesday.
Shareholdings in the giant SPDR Gold Trust (NYSEArca:GLD) remained unchanged, needing 851 tonnes of bullion backing.
The iShares Silver Trust (NYSEArca:SLV) was also unchanged in size, despite silver prices approaching new 2017 lows at $16.08 per ounce.
Silver rallied 10 cents Wednesday morning.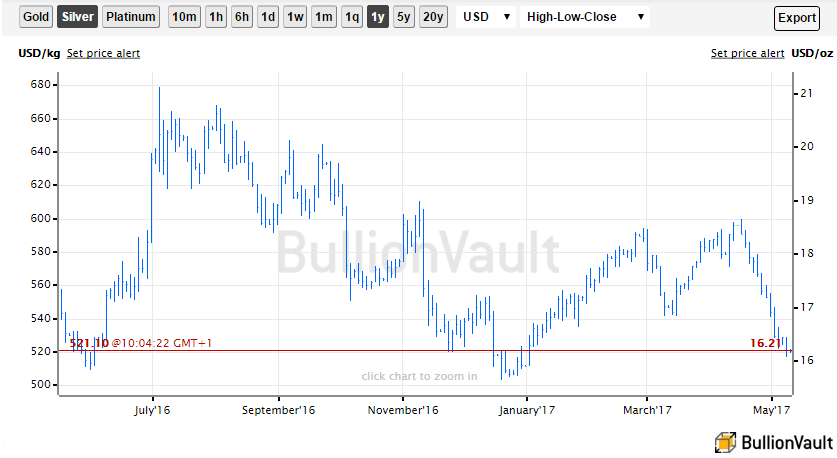 "Fears of a Frexit have dissipated [and] elections in the UK seem...likely to signal political stability," says a revised gold price forecast from French investment and bullion bank Natixis' metals analyst Bernard Dahdah.
"[But] the market has already factored in most of the [expected US Fed] June rate hike, [so] we see gold prices hovering around $1200."
From there, and despite "bearish views on gold prices", Natixis sees "North Korean and US geopolitical tensions" supporting the metal, alongside stronger Indian consumer demand.
As a result, Dahdah has revised Natixis' full-year average forecast
up from $1110
to $1185 per ounce.
Gold has averaged $1231 per ounce so far this year on the daily LBMA Gold Price, the global benchmark.
Having breached its "multi-month upward trend", says new technical analysis from French investment and bullion market-making bank Societe Generale, "gold has embarked on a correction...with possibility to test $1209/1200, the 50% retracement of recent recovery."