Gold Prices Fall as US Jobless Claims Fall to 50-Year Low, EU Kicks Can 'Til Halloween on UK's Brexit
Thursday, 4/11/2019 14:59
GOLD PRICES fell with other precious metals on Thursday in London, sliding back below $1300 as Western stock markets rose and new US data came in stronger than analysts expected.
Silver fell to flirt with $15.00 for the first time in a week as gold prices cut their rise since last Friday to $5 per ounce at $1296.
Platinum prices
fell below $900 per ounce, and also slipped beneath last week's close in Euro and Britsh Pound terms too, slipping below €800 and £690 respectively.
After Wednesday brought news of a falling US federal deficit and rising consumer-price inflation, cost pressures for manufacturers beat forecasts for March, pushing up the 'core' Producer Price Index by 2.4% annually when volatile food and fuel are excluded.
New claims for unemployment benefit were meantime lower last week than any time since 1969, dropping below 200,000.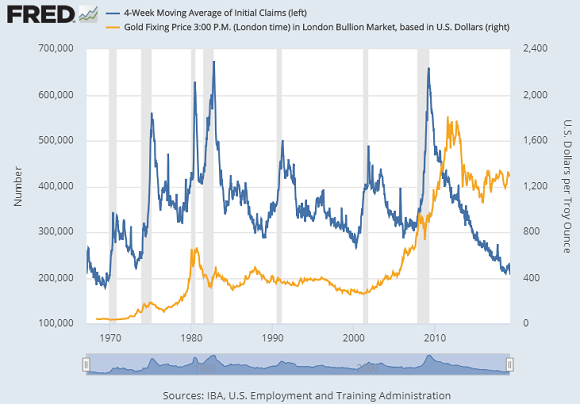 Despite today's better US news however, gold fell harder against the Pound and the Euro after a late-night emergency summit of European Union national leaders
gave the UK a further "extension"
to delay Brexit until 31 October unless the British Parliament approves an exit deal sooner.
Euro gold prices also fell to unchanged for the week so far, dropping over €10 per ounce from yesterday's 2-week highs to trade at €1152.
Refusing to agree a longer extension beyond Halloween, "We have a European renaissance to manage," said France's President Emmanuel Macron. "I believe in it very deeply and I don't want Brexit to come and block us on this."
Too bad that the European Union is being so tough on the United Kingdom and Brexit. The E.U. is likewise a brutal trading partner with the United States, which will change. Sometimes in life you have to let people breathe before it all comes back to bite you!

— Donald J. Trump (@realDonaldTrump) April 11, 2019
With US President Trump
likely to target European Union goods
with trade tariffs over the region's state aid for aerospace giant Airbus, US trade secretary Steve Mnuchin said Wednesday that "We've pretty much agreed on an enforcement mechanism" with China for reviving a trade deal after Trump began imposing tariffs of up to 25% last year.
US importers are cutting their purchases of Chinese goods
only to replace them with items
from Mexico, Vietnam and South Korea among others, a new study quoted by Reuters claims.
Headline US consumer-price inflation rates rose to 1.9% on Wednesday's new data, the cost of living in China showed a jump to a 5-month high in an overnight announcement, rising to 2.3% per year on a surge in pork prices.
Germany's cost-of-living meantime held its 1.3% annual pace of inflation last month, the official statistics agency said Thursday.
Wikileaks founder Julian Assange was today
arrested in London
and arragined for an extradition hearing on US spying charges after the Embassy of Ecuador in London withdrew his aslyum after nearly 7 years.