Bounce in Gold Prices Fades as Stocks Fall Despite Central Bank 'Action' on Covid-19
Monday, 3/02/2020 14:31
GOLD PRICES gave back $17 of a $45 bounce from Friday's sudden slump in London trade Monday, retreating as Western stock markets erased their rally amid hopes of co-ordinated central-bank stimulus to try and stop the Covid-19 crisis sparking a global recession, writes Atsuko Whitehouse at BullionVault.
Gold prices touched $1610 per ounce before retreating to $1593, some 1.8% above
the previous session's plunge
from last Monday's new 7-year highs.
Fears of a global pandemic meantime wiped more than $5 trillion off major global stock markets last week, the biggest fall since the 2008 financial crisis.
"Investors were cashing out to cover losses and meet margin calls in other markets," Canadian brokerage RBC Capital Markets says in a note, referring to Friday's drop in gold prices.
"We do not view this as a loss in faith in gold's role as a 'perceived safe haven' or a fundamental shift in the attitude toward gold."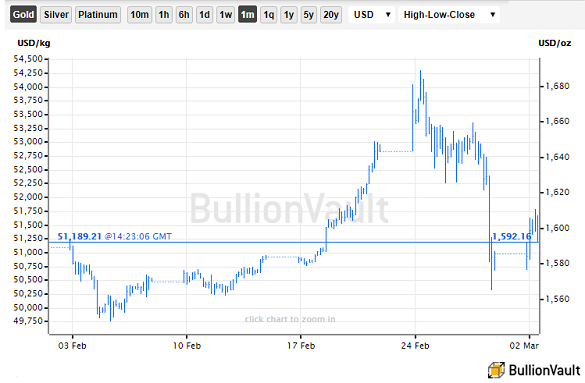 With world No.2 economy China hit by quarantines and factory shutdowns in February, activity in both the manufacturing and service sectors sank at a record pace according to new PMI data on Monday.
German and other European PMIs in contrast appeared to show that their 12-month downturn eased last month. But IHS Markit, source of the data, said it could be a "false dawn" because it doesn't account for the worsening impact of the novel coronavirus.
European stock markets reversed an earlier 2.1% gain on the
EuroStoxx 600 index
, falling to new 6-month lows as world inter-governmental agency the OECD said global GDP growth could halve this year if the coronavirus outbreak persists.
Equities had initially rallied as the Bank of Japan followed the US Federal Reserve in vowing to take action to stem the impact of the novel coronavirus, with Tokyo launching a new raft of bond purchases and continuing to buy stock-market ETF funds.
Following Fed chairman Jerome Powell's statement that the US central bank will "act as appropriate" as the virus poses "evolving risks" to the economy, betting on US interest-rate futures now sees a half-point cut as 100% certain when the policy committee meets on March 17-18.
Traders are also pricing in 95% chance that rates would drop further to the 0.75% to 1% range by December, according to
the CME's FedWatch tool
.
Longer-term interest rates continued to slide worldwide on Monday, with the price of 10-year US Treasury bonds rising so high, they offered new buyers just 1.04% in annual yield, marking a record low for the 4th consecutive session.
Starting in Wuhan, Hebei province, and now killing more than 2,900 people while infecting at least 80,000 more in mainland China, the fast-spreading coronavirus has now reached over 60 other countries.
The European Centre for Disease Prevention & Control today raised its
risk level to "moderate to high"
, with more than 2,100 cases of Covid-19 confirmed in 18 of the 27 EU states.
Gold prices for European investors meantime edged down to €1433 per ounce, slipping near Friday's 3-week lows even as Eurozone government bond yields fell deeper into negative territory – locking in a loss to redemption for new debt buyers – while the single currency edged higher on the FX market.
Silver prices were flat at the weekend's level of $16.70 per ounce after plunging some 11% to 7-month lows on Friday.
Platinum prices edged lower to $860 per ounce after dropping over 13% last week to a 6-month low.