Gold Prices Rise vs Euro, 'Vulnerable' at $1200 as Dollar Rises, ECB Warns on Inflation Before Trump Inauguration
Thursday, 1/19/2017 13:54
GOLD PRICES
rose versus the Euro but fell against the Dollar lunchtime Thursday in London, as Eurozone central-bank chief Draghi urged governments to boost fiscal stimulus and warned that inflation is likely to rise further, but held the 19-nation currency union's
key interest rates unchanged
.
Shanghai gold prices had earlier retreated near 3-week lows at the city's afternoon price benchmark, as the Yuan slipped on the FX market from this week's sharp rally off 8-year lows.
Ahead of next week's key Lunar New Year retail demand, that cut the
Shanghai premium over London quotes
– a measure of China's wholesale demand vs. supply – to $15 per ounce, some 6 times the typical incentive to new imports.
With Chinese investors and savers trying to escape the weakening Yuan, gold-backed ETF vehicles in the world's No.1 gold-consumer nation are bucking the global trend and seeing net inflows, reports Bloomberg.
Huaan Yifu Gold ETF "is getting all the attention," the newswire says, "attracting almost $72m last week" but keeping the 4-year old trust fund's total asset value well below $1 billion.
Well over 30 times larger meantime, shareholdings in the world's largest exchange-traded gold trust – the New York-listed SPDR Gold product (NYSEArca:GLD) – held unchanged yet again on Wednesday, needing 807 tonnes of bullion to back its value, an 8-month low, despite gold prices trading near 8-week highs.
Bullish speculation by the 'managed money' category of traders in US Comex gold futures and options last week rose, net of bearish bets, by $2.5bn from an 11-month low beneath $4bn of total notional value.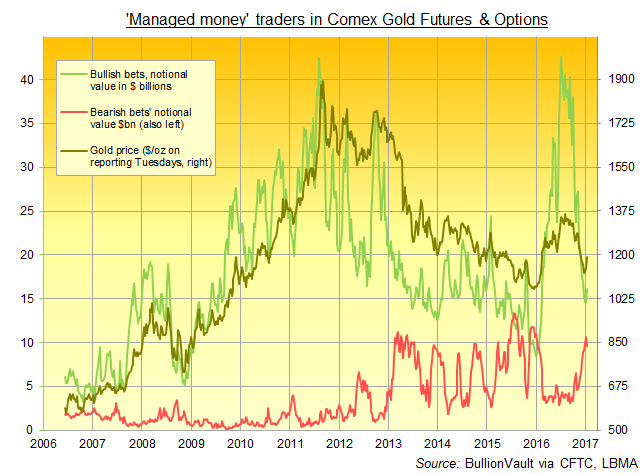 With 1 day until Donald Trump is sworn in as the 44th president of the United States, "Gold remains vulnerable to a further strengthening of the Dollar," says Japanese conglomerate Mitsubishi's precious metals specialist Jonathan Butler, "[especially if] US economic prospects are lifted by expectations of fiscal stimulus [and] President Trump's plans for reduced corporate taxation."
Forecasting a near-4% drop in 2017's average gold price from last year however, "Increased fiscal spending...will widen the US Federal budget deficit," Butler goes on, "[risking] protracted political disputes over government debt.
"Together with greater trade protectionism and/or geopolitical tensions, gold could be reasonably well supported as a risk hedge as the year wears on."
Speaking at the annual Davos, Switzerland meeting of the self-declared World Economic Forum, IMF managing director Christine Lagarde today urged wealth redistribution through tax and benefits, while billionaire hedge-fund manager Ray Dalio agreed with Chinese leader
Xi Jinping's speech from Tuesday
that "we may be at a point where globalization is ending, and provincialization and nationalization is taking hold."
One of 7 European Union members not in the Eurozone but obliged to join the single currency at some point under the terms of accession, the Czech Republic has kept a hard cap on its Koruna's value at 27 per Euro.
The CNB spent €7 billion defending the Koruna's 27 per Euro ceiling in the first 10 days of January alone, according to Reuters data.