Gold and Silver Off 3-Week Highs After ETFs Expand, Platinum Price Slips as Specs Grow Bearish Bets
Monday, 10/12/2020 14:50
GOLD PRICES dipped Monday morning in London from the weekend's 3-week closing high before reclaiming the $1920 level as the US Dollar eased back amid new uncertainty over Washington's stimulus deal, writes Atsuko Whitehouse at BullionVault.
Spot gold prices bottomed 0.5% down at $1918 after hitting new 3-week highs at $1933 earlier in Asian trade.
The Dollar index – a measure of the US currency's value versus its major peers – meantime rose following Friday's sharp pullback to 3-week lows after China's central bank took steps to restrain a recent rally in
the Yuan by making it cheaper
for speculators to bet against the Chinese currency.
That saw gold prices for UK investors edge lower to £1478 per ounce, while European gold prices traded flat at €1631 per ounce even as both currencies weakened versus the Dollar.
Platinum prices
meantime slipped further by 0.8% to $886 per ounce, struggling to regain the levels it lost during the last 3 weeks.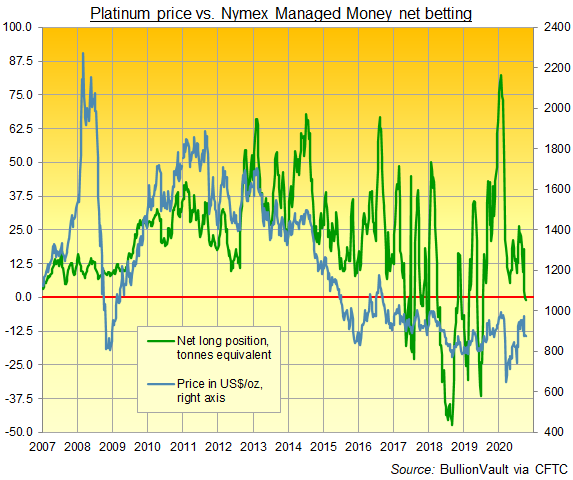 Bearish betting against platinum grew still further last week among hedge funds and other leveraged speculators in Nymex futures and options, latest data show, taking the overall position of Managed Money traders to net short for the second week.
Gold saw speculators increase their net long position in contrast, but silver and palladium followed platinum into showing net bearish betting from Managed Money traders overall according to the
latest data compiled
by regulator the Commodity Futures Trading Commission (CFTC).
While US bond market stayed closed Monday for Columbus Day, US stock markets will open and New York futures pointed to a higher open as European stocks gained, following Chinese equities higher on optimism that President Xi Jinping is planning to open further parts of the economy to foreign investment.
Over in Washington, "US fiscal policy negotiations are starting to look a lot like the EU-UK divorce negotiations, being
both tedious and interminable
," said Paul Donovan, chief economist of UBS global wealth management.
On Sunday House Speaker Nancy Pelosi called the White House offer a "miserable and deadly failure." Trump accused the House speaker of dragging out the talks in an attempt to "influence the election."
Friday's rally in gold prices
saw gold-backed ETF trust funds slow their expansion, as the SPDR Gold Trust (NYSEArca: GLD) did not change in size and the iShares gold ETF (NYSEArca: IAU) saw minor net investor inflows.
For October so far, the GLD has increased only 0.2% to need 1,272 tonnes of bullion backing, 0.6% below the peak recorded on 21 September, while the IAU has swelled increased 0.5% to 521 tonnes, a new all-time high.
While
gold-backed ETFs
as a group expanded for a 10th month running in September, iShares' giant silver ETF trust (NYSEArca: SLV) meantime declined 776 tonnes (4.4%) last month.
Again in contrast to gold ETFs so far in October however, it has now grown by 2.1% to need 17,426 tonnes of backing, some 2.8% below the mid-August's fresh all-time record.
Monday in London saw silver prices decline 0.2% to $25.12 per ounce after reaching $25.56, a new 3-week high.
That pushed
the Gold/Silver Ratio
– which tracks the two formerly monetary metals' relative prices – down further to just under 77, the lowest value for gold versus silver in 3 weeks.