Gold Bullion +2% for Week vs Falling Dollar as Trump's Troubles Spread to Turkey
Friday, 5/19/2017 15:00
GOLD BULLION recovered $5 per ounce from a dip below $1250 on Friday, heading for a 2.1% weekly gain as world stock markets cut their mid-week losses despite fresh pressure on US President Donald Trump over his team's foreign connections and Middle East policies.
Government bond yields ticked higher again, and the Dollar fell to new post-Trump election lows versus the single Euro currency.
That held gold bullion prices for Eurozone investors €5 per ounce below last week's finish at €1119.
"Uncertainty surrounding political developments in the US is likely to keep the greenback under pressure over the short-term and should support gold," says a trading note from Swiss bullion refiners and finance group MKS Pamp.
With Team Trump now under investigation by ex-FBI chief Robert Mueller over former security advisor Michael Flynn, reports today blamed Flynn – then being
paid to lobby for the Turkish government
– for
blocking plans to arm Kurdish separatists
against the ISIS terrorists in Syria, plans put into action by the Trump administration since Flynn's sacking over his contact with Kremlin officials during last year's US election campaign.
Trump today flies out to Saudi Arabia today for his first foreign trip since taking office, meeting with the oil-rich Islamic nation's royal family.
"In a market environment characterised by high risk aversion," says a note from Germany's Commerzbank – now apparently set to close its Luxembourg-based bullion division – "gold appears to be in demand again as a safe haven at present."
Giant gold-backed ETF the SPDR Gold Trust (NYSEArca:GLD) in fact shrank Thursday as stockholders liquidated shares, reducing the amount of bullion need to match its value by 1 tonne to one-month low at 850 tonnes.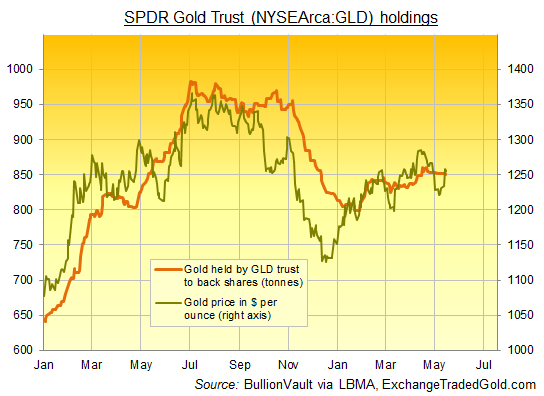 Meantime in India, the world's No.2 consumer nation, "Wedding season is coming to an end [and] footfalls in showrooms were going down drastically in last few days,"
Reuters quotes
Mumbai jewelry and bullion wholesaler Ashok Jain of Chenaji Narsinghji.
"Some buyers are waiting for a price correction."
Silver prices today
tracked gold bullion's bounce after failing to make new 2-week highs on Thursday, trading 2.2% higher for the week against the fast-falling US Dollar at $16.84 per ounce.
Platinum also traded 2.1% up for the week mid-afternoon in London, heading for its highest Friday finish in three at $941 per ounce.