Gold Bullion Hits More GBP + EUR Highs as London's Vaults See Net Outflow, Italy Rows Over Reserves
Tuesday, 2/12/2019 13:31
GOLD BULLION recovered almost all of yesterday's 1.0% drop against the Dollar in London on Tuesday, rising back to $1314 per ounce as world stock markets rose.
New data meantime showed London's bullion vaults – center of the world's wholesale gold trade – saw an outflow of metal in 2018, while the row about Italy's national gold reserves meantime continued after La Stampa said Rome's coalition government of the left-wing M5s and rightwing Lega wants to sell some to cut its budget deficit and reverse a rise in VAT sales tax planned for 2020.
With the UK's Brexit set to leave the European Union and its free-trade customs deals on 29 March, Germany was the largest EU destination for UK gold bullion exports on the new 2018 data, taking 10.5 tonnes from London but also sending in 26.2 tonnes of non-monetary gold.
The key refining hub of Switzerland took in 447.0 tonnes and delivered 12.1 to London, while China –the No.1 consumer nation – received 143.3 tonnes from UK storage but shipped back barely 0.2 tonnes according to HMRC figures.
Yesterday the UK signed what the Financial Times calls the country's "biggest trade deal since [the 2016] Brexit vote" with Switzerland, ensuring continuity of current arrangements for imports and exports with the non-EU state.
All told, the UK's customs data report net outflows of 159.9 tonnes for 2018 as a whole. Primarily stored in London for bullion banks, investors and supply-chain players, that gold has grown by a net 1,480.2 tonnes over the last decade.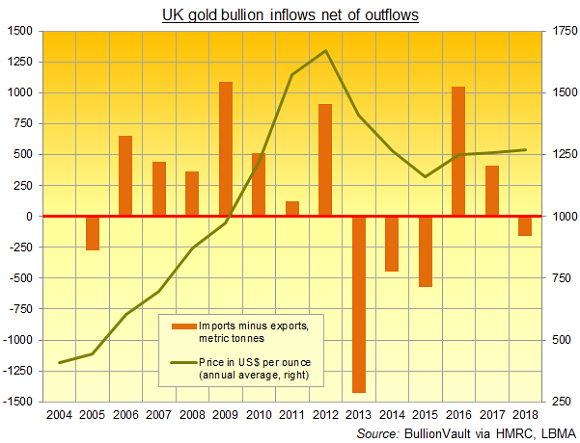 Never selling under the Central Bank Gold Agreements first signed by Western Europe's large holders in 1999 – and due to expire in late September if not renewed – Italy remains the
3rd largest national holder
, behind only the United States and Germany, with 2,451.8 tonnes.
"The gold is the property of the Italian people,
not of anyone else
," claimed rightwing Lega Party leader and deputy prime minister in Rome's current coalition Government, Matteo Salvini, on Monday.
Summer 2009 saw Italy
's finance ministry, then under the Government of Silvio Berlusconi, attempt and fail to 'tax' the gold belonging to the Banca d'Italia, a move publicly rebuked by the European Central Bank for interfering with central-bank independence.
Selling some of Italy's gold, said M5s founder and professional comedian Beppe Grillo late last year, "would allow us to finally put an end to this annoying story about the fact that 'there is no money'.
"Why do citizens have to sell their necklaces and not the state?"
"Article 127 of the European treaty," claimed the Italian Parliament's controversial Budget Committee chairman
Claudio Borghi
on Mnday, "says that central banks hold and manage national gold reserves – 'holding' means that
the owner is someone else
."
But "It is important to preserve the independence of central banks," countered EU Commission Vice-President Valdis Dombrovskis,
speaking to La Stampa
on the sidelines of a meeting in Brussels and stating a position repeated separately by two other senior European officials.
Euro gold prices today touched new 22-month highs above €1165 per ounce as the diplomatic row between Italy and France over M5s politician Luigi Di Maio's
support for the gilets jaunes
protests against French president Emmanuel Macron.