Dow/Gold Ratio Near 9-Year High, 'Up, Up!' Says Trump as Dow 20,000 Sees GLD Below 800 Tonnes of Bullion
Thursday, 1/26/2017 14:58
GOLD BULLION fell to new 2-week lows in London trade Thursday, as world stock markets pushed higher following the new record close above 20,000 for New York's Dow Jones Industrial Average.
Rising 26% over the last 12 months, the Dow has accelerated its gains since Donald Trump won November's election as US president.
Having called the US stock market's 8-year rise a "big, fat, ugly bubble" in a debate with Hillary Clinton last September, "I'm very proud of it," said Trump in
an interview overnight
, also tweeting his approval.
"Now, we have to go up, up, up; we don't want it to stay there."
Comparing the relative value of gold against the US stock market, the Dow/Gold Ratio ticked higher as equities rose and bullion fell, rising back towards December's 9-year high of 17.
Bottoming at barely 2 ounces of bullion per unit of the Dow Jones Industrial Average as the Great Depression hit in the early 1930s, the Dow/Gold Ratio rose steadily following WWII, before making a new low near 1.0 in early 1980 as the stock market sank and gold soared amid the strongest peace-time inflation on record.
Over the following 20 years gold bullion then lost 97% of its value in terms of US equities as measured by the DJIA, before rising six-fold – with the
Dow/Gold Ratio falling – to the 2011 peak
of the global financial crisis.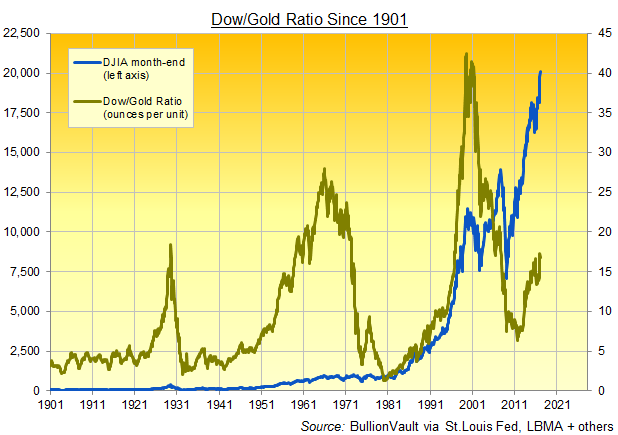 As gold prices fell below $1200 in the spot market yesterday, bullion needed to back the giant SPDR Gold Trust (NYSEArca:GLD)
dropped below 800 tonnes
for the first time since March 2016 as shareholders liquidated stock.
Prices on the Shanghai Gold Exchange today fell to 2-week lows versus the Yuan as trading volumes quietened ahead of tomorrow's start to the week-long Chinese New Year holidays.
The US Dollar meantime pushed both the Euro and British Pound back from better than 1-month highs on the FX market as commodity prices rose with major government bond yields.
Ahead of Friday's US gross domestic product data for the end of 2016, new figures from the UK today said the world's 5th largest economy
grew its GDP by 2.2% annualized
in the fourth quarter, just beating analyst forecasts.
"The Dollar is likely to remain a substantial headwind to further price rises," says the latest quarterly market data and analysis from specialists Thomson Reuters GFMS, "at least in the first half of 2017.
"Furthermore, there are few indications that physical demand from Asia is set to pick up just yet."
With European elections from the Netherlands to France, Germany to Italy likely to put the 19-nation Eurozone currency union center stage, however, "There is a growing likelihood of safe haven flows" back into gold bullion GFMS goes on.
Also highlighting possible volatility from US President Trump's "more unorthodox approach" to politics, GFMS now forecastis an annual average in gold bullion of $1259 per ounce in 2017 – unchanged from 2016's 2-year high.