3rd Steepest Weekly Drop in 5 Years for Gold Bar Prices as Crude Oil Falls with Stocks Amid Covid, US Political Tensions
Friday, 9/25/2020 14:07
GOLD BARS traded in the global center of London held at $1855 per ounce Friday lunchtime, down almost 5% from this time last week as world stock markets fell yet again amid the worsening Covid-19 pandemic and US political tensions.
Ignoring yesterday's bounce in US shares, Asian stock markets ended flat on the day and 3.2% down for the week, while European equities fell once more, pulling the EuroStoxx 600 index almost 9% lower from this time last year.
Wholesale gold bullion bars meantime headed for a weekly drop of $89 per ounce, the 3rd steepest fall of the last 5 years after this March's Covid Crash and mid-August's retreat from the new all-time high of $2075.
Commodity prices also fell with equities, pulling US crude oil below $40 per barrel – a 4-year low when hit by March's Covid Crash – while
silver prices
rallied to $22.78 per ounce, cutting this week's plunge from 18.9% back to 15.0%.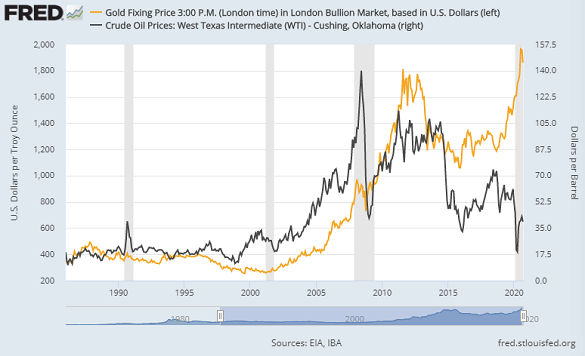 New York gold futures today showed a small $3 per ounce premium to London physical bullion bar quotes – dramatically lower from this spring's
$100 Covid Crash shock
– while Comex silver's most active contract traded 8 cents above spot, also back in line with historically typical levels.
Shanghai gold bars in contrast
extended their deep discount
to the global benchmark, trading $52 per ounce below London on average since Monday, the widest weekly gap in three for prices in China, the metal's No.1 consumer nation.
"Reasonably modest [gold] price action as well as flow volume" in Friday's Asian trade, says the daily note from Swiss refiner MKS Pamp's team, "but we saw consistent bids on the way down from longer-term names."
While
gold ETFs
ended Thursday little changed in size from last weekend, the
giant iShares Silver Trust
(NYSEArca: SLV) shrank another 1.5%, marking its 6th consecutive week of investor liquidation.
Western government bond prices meantime rose Friday, pushing longer-term interest rates lower.
Adjusted for market-based inflation forecasts, the real yield on 10-year Treasury bonds today edged down 1 basis-point from Thursday's 2-month high of minus 0.91% per annum.
That rate stood at 0.13% above inflation forecasts this time last year.
With the city of St.Louisville in a state of emergency as
armed protesters took to the streets
following the grand jury's decision not to indict 3 police officers for murder over
the killing of Breonna Taylor
, senior politicians in the Republican Party tried to reassure voters that President Trump will accept the result of November's 2020 White House election after the celebrity real-estate mogul again called the ballot's "honesty" into doubt.
Portugal meantime became the latest European nation to re-impose social restrictions against Covid, while UK supermarket
Tesco reinstated limits on customers
buying essential items including toilet roll and dried pasta as "panic-buying" returned.