Gold Down, Silver Sinks as Equities Rally, SLV ETF Expands, Covid and Brexit Hit UK Pound
Wednesday, 9/23/2020 13:51
GOLD PRICES fell and silver sank once again in Asian and London trade Wednesday, pulling the former monetay metals down to 6- and 8-week lows respectively in US Dollar terms as Chinese and European stock markets rallied hard from last week's sell-off despite another surge in new Covid-19 infections worldwide.
Longer-term interest rates meantime edged lower in the bond market after Washington's Federal Reserve chief Jerome Powell told Congress yesterday that the US central bank "remains
committed to using our full range of tools
to support the economy for as long as is needed."
Gold bottomed overnight Wednesday at $1873 per ounce, down $75 from last weekend's level and $200 beneath early August's fresh all-time high.
Silver prices
meantime found a floor just above $23 per ounce, down almost 14% for the week so far and nearly $7 beneath early August's spike to 7-year highs.
Priced in the Euro silver today dipped through $20 for the first time since breaking that level in late-July's surge.
Silver also fell further on Wednesday against the weaker UK Pound, dropping to 6-week lows at £18.17 per ounce even as Sterling hit its lowest since late-July on the FX market after the Government of pro-Brexit campaigner Boris Johnson
imposed new anti-Covid laws
on the retail, leisure and hospitality sectors while also
warning the haulage industry
that 1st January's exit from the EU could spur major disruption, saying that both look set to last until March.
Among exchange-traded precious metals funds Tuesday, the giant SPDR Gold Trust (NYSEArca: GLD) saw a little net selling by investors, shrinking 0.6% after Monday's price plunge saw the fastest investment inflows since June 2019 expand its number of shares in issue by 2.6%.
Monday's 3% price drop also saw No.2 gold ETF the iShares Trust (NYSEArca: IAU) expand by 0.5% to a new record size, holding unchanged yesterday.
iShares' giant silver ETF trust (NYSEArca: SLV) meantime grew on Tuesday for only the second time in September so far, expanding by 0.4% for the day after shrinking 4.8% from mid-August's fresh all-time record.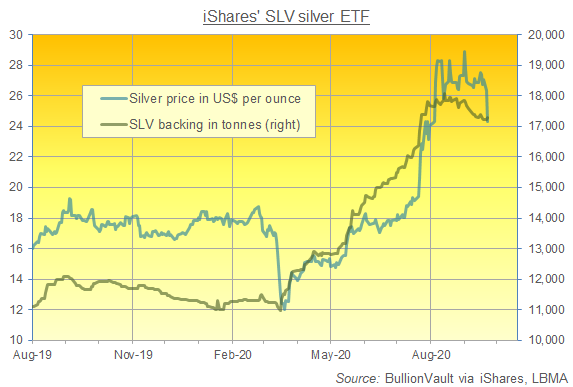 "Silver-backed ETFs show a consistent pattern of selling so far this month," says one London bullion market-making bank in a note, "supporting the idea that the silver price at $27-28 is considered a top-side worth selling.
"The same sort of thinking happened as miners came back to the market and hedged heavily, selling [future output] for a fixed price in the future after silver reached an outrageous $30.00 price tag in August."
"Down-side targets [in gold prices] extend to the August low of $1860," says Swiss refiner MKS Pamp's Asian trading desk. "Below this [comes] the key 100-day moving average at $1840."
Technical analysts at Swiss bank Credit Suisse see "a cluster of flagged supports at $1837, which includes the 23.6% retracement of the rally from the 2018 low.
"We look for this to continue to hold to maintain the sideways range. [But] should weakness extend, we would see scope for a deeper setback to $1765, potentially $1726."
Looking at geopolitics, "Historically there is no clear pattern for gold trading or price volatility into and after US elections," say commodities analysts at US banking giant Citigroup.
But November's choice between Trump and Biden "is one reason why we expect gold prices to hit fresh records before year-end" they explain, saying that US election risks to wider financial markets look "under-appreciated by precious metals" at current prices.