'Safe Haven' Gold 'Anything But' as Bonds Also Fall in Worst Week Since '87 for World Stock Markets
Friday, 3/13/2020 14:49
GOLD PRICES struggled to rally from this week's plunge in London trade Friday, holding 5.5% below last weekend's level as Asian stock markets closed lower yet again but European equities bounced from their worst 1-day drop since 1987's Black Monday amid new government measures to slow the spread of novel coronavirus.
Holders of 'safe haven' government bonds also showed a loss for the week, as prices extended their surprise fall to push yields higher from last Friday.
That took the yield offerd by 10-year US Treasuries up by more than 0.1 percentage for the week to 0.89% per annum, while German Bund yields rose from -0.72% to -0.58% as prices fell back.
Gold priced in the Dollar rallied close to $1600 on Friday morning in London, but then fell back to $1570 as major government bond prices also retreated while stock markets rose.
The UK gold price in Pounds per ounce
held firmest amongst major currency values for the metal, trading £20 down from last weekend's record-high at £1260 as Sterling stumbled again on the FX market.
The Yen price of gold meantime bounced from its plunge to new 2020 lows, trading more than 10% below its near all-time record top of just 3 weeks ago, while gold priced in the 19-nation Euro gained 2.6% from yesterday's 8-week low of €1387.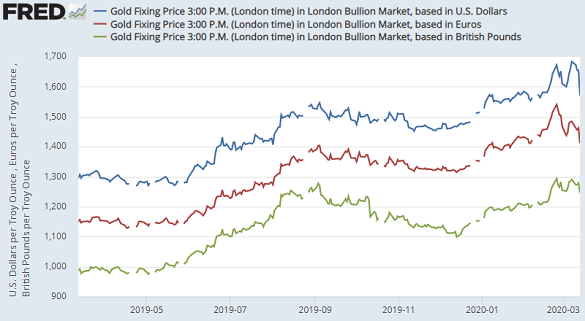 "Belgium, France, parts of Germany, India and some US states become the latest places to close schools," says the BBC, while the Czech Republic and neighboring Slovakia closed their borders to foreign nationals.
Struggling meantime to defend the UK authorities' relative inaction and its strategy of
wanting infections to create 'herd immunity'
, the government of Boris Johnson saw football's Premier League cancel all matches until at least start-April, while the Department of Health said that confirmed cases of the virus across the country
jumped yesterday by 35%
.
"Gold looks a pretty good bet over the medium term," said commodity strategist Daniel Hyne of banking group ANZ to Bloomberg today.
"You could even call a 10% to 15% rally a fairly good possibility in the shorter term."
Earlier on Friday, the central bank in China – source country for the Covid-19 outbreak, and worst hit so far both by infections and the impact of shutting down economic activity – said it's cutting the amount of cash that commercial banks must hold in reserve, urging lenders to
make the extra $79 billion released available
to small firms and manufacturers as restarting economic growth moves into
"a more prominent position"
alongside "maintaining ample liquidity" in its money markets.
"[But] with the pandemic rapidly spreading [worldwide]," says Dutch bank ING in a note, "supply chains are not the only thing taking the hit, global consumption demand will also fall too.
"Smaller factories and exporters face bigger risks and banks will be taking this into consideration when they assess credit risks."
Commodity prices including crude oil, copper and also precious metals sank to their lowest on Thursday, as a group, since 2002 on the CRB index.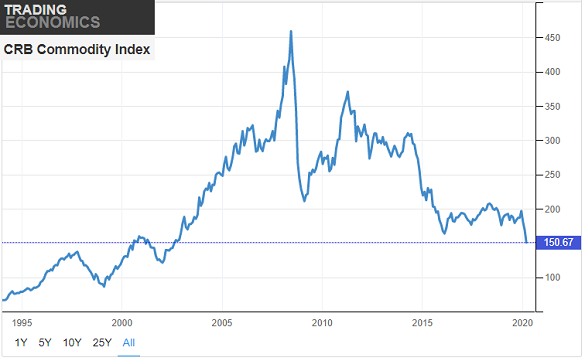 With the S&P500 index of US shares down 16.5% for the week so far at Thursday's close, the MSCI World Index yesterday lost 16.6% from last Friday's finish.
The gold price in US Dollars meantime showed a 6.7% drop from last weekend, losing over $65 from Thursday morning alone.
Silver prices dropped 8.1% on Thursday, trading at $15.64 lunchtime Friday in London, while platinum lost over $100 per ounce to hit its lowest intra-day price since November 2003 at $752.
"The main mover on Thursday was however palladium," says the daily trading note from Swiss refining and finance group MKS Pamp, "cratering a staggering -20% as bids evaporated" after the industrial precious metal's relentless surge to new all-time highs amid an apparent supply shortage came to an end.
"The panic-driven long liquidation continued [in] gold," MKS goes on, and "the supposed 'safe-haven' was anything but as participants off-loaded positioning and sold.
"The metal now sits precariously close to the recent supportive level of $1550."
Crypto-currency Bitcoin yesterday lost half its Dollar value, hitting a 12-month low.