Gold Price Rallies But G7 Ban on Russian Bullion 'Will Have Limited Impact'
Monday, 6/27/2022 14:30
GOLD PRICES rallied but then fell back Monday to what was the lowest weekend level since mid-May as leaders from four of the G7 countries announced a plan to ban Russian gold imports as part of widening sanctions over Moscow's invasion of Ukraine, writes Atsuko Whitehouse at BullionVault.
The European Union gave a
more "cautious" response
, echoing its concerns over the impact on the region's domestic economies from banning Russian oil imports – a sanction now delayed until the end of this year, while natural gas imports will continue.
The move will not affect previously exported Russian-origin gold.
Spot gold prices rose by 0.8% to $1841 per ounce this morning, before erasing most of that gain by London lunch time.
The yellow metal last week recorded a second weekly decline, reaching the lowest Friday close in 6 weeks.
"The G7 import ban on Russian gold seems to be providing some short-term support in early Asia [trading]," said one derivatives analyst.
"Gold is a major export that
rakes in tens of billions
of dollars for Russia," declared US President Joe Biden at the weekend's G7 summit in Germany, with the precious metal coming second only to energy for the commodities giant and reaching almost $19 billion to
account for 5% of total global gold exports
in 2020, according to the White House.
But
gold exports
from Russia – the precious metal's 2nd largest mining nation – have "already been rerouted since the start of the war," says Carsten Menke, analyst at Swiss bank Julius Baer, "
flowing eastwards
rather than westwards.
"[That is] reflecting self-sanctioning from Western world gold market participants" following the
suspension in March of all Russian gold refiners
from the vital Good Delivery list of large-bar production acceptable to the London market, heart of global gold bullion trading and storage.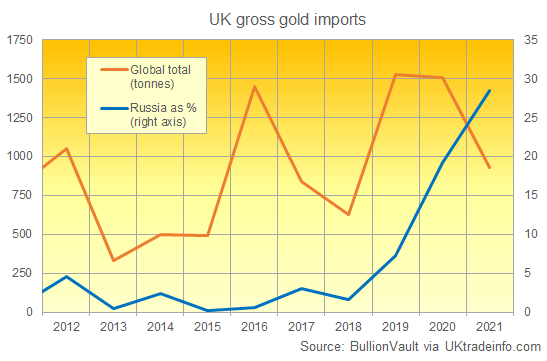 Totalling 264 tonnes in 2021, imports to the UK of gold from Russia reached almost 37 tonnes across January and February, but sank to zero in March and showed only 75 kilograms on official data for April.
Nevertheless, "The implications of a ban on the gold market are likely very limited," Menke at Julius Baer says.
"We are ready to go more into the details and to
look if it's possible
to target gold in a manner that would target the Russian economy and not in a manner that would target ourselves," said European Council President Charles Michel.
"Given the circumstances it would not be surprising if the Russian Government were trying to amass locally produced gold as part of a war chest; domestic banks' gold reserves were down by 11.4 tonnes in February and March," said Rhona O'Connell at brokerage Stone X.
The EU also says it has reservations about a US push for an oil price cap or "exception" to try restricting Moscow's energy revenues.
Oil prices edged down on Monday morning, erasing a little of Friday's rebound.
Ten-year US Treasury yields – a benchmark rate for government as well as many finance and commercial borrowing costs – also reversed a little of last week's move, trading 4 basis points higher at 3.17%.
Federal Reserve Bank of San Francisco President Mary Daly – not a voting member in 2022 – said on Friday that another 75 basis-point hike to interest rates
will likely be needed in July
to tackle inflation now running above 8% per year, the fastest in 4 decades.
Voting Fed member James Bullard of the St.Louis branch
also said urgent and rapid hikes
to interest rates are now the best way to avoid steeper hikes in future, risking recession.
Russia today
defaulted on its foreign debt
for the first time since 1918 amid the Soviet Revolution, with the "grace period" on $100 million of interest payments due a month ago – and effectively blocked by Western sanctions against Russian banks – now expired.
European stock markets meantime extended last week's rally on Monday, following a rally across Asian markets as China further eased its latest Covid-19 restrictions, helping cut the MSCI World Index's loss for 2022 to date to 18.9%.
Last week's confusion over 3 tonnes of
Russian gold apparently imported to Switzerland
in April via the UK was most likely due to how Swiss customs records "destination of origin", with Russian-made bars counted as Russian inflows no matter their age or intervening location.