Gold Prices Stuck in 4-Week Range as Nasdaq Jumps Ahead of US Fed's September Meeting
Monday, 9/14/2020 15:57
GOLD PRICES rose near $1960 per ounce in London trade Monday, right in the middle of the last 4 weeks' trading range, as US stock markets again pulled away from global equities with a 2.3% jump in the tech-heavy Nasdaq ahead of this week's monetary policy announcement from the Federal Reserve.
Gaining over one-fifth since New Year 2020, that took the index within 1,000 points of early September's current all-time high above 12,056.
The EuroStoxx 600 held flat in contrast, trading more than 12% lower for 2020 so far, as the World Health Organization reported a record daily number for new cases of Covid-19 and the UK Parliament argued over London's threat to break its Brexit withdrawal agreement with the European Union unless Brussels concedes ground in free-trade talks.
US bond prices also rose again, pushing the yield offered to new buyers of 10-year Treasury debt down to 0.66% per annum – a fresh all-time low when first reached in March's Covid Crisis.
"The market definitely needs more from the Fed now," Bloomberg quotes brokerage Jefferies chief financial economist Aneta Markowska.
"The Fed will be undershooting on inflation for the better part of four years, so why wait to do more? Inflation expectations have already been fading."
But with the US central bank's balance-sheet swelling by 85% in 2020 to reach more than $7 trillion of bonds and other assets bought with quantitative easing, "We are settling in for another long painful recovery where some people are feeling great because they own lots of stock and others lost their job," says former Fed advisor Andrew Levin, economics professor at Dartmouth College.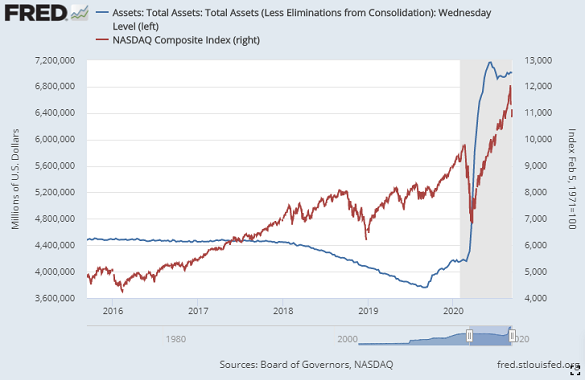 For gold prices, anything other than central-bank announcements "are currently relatively inconsequential," says today's note to clients from brokerage StoneX's Rhona O'Connell, "with the markets watching the ECB last week (no real change) and similarly the FOMC meeting tomorrow and Wednesday.
"What will be of particular interest is the extent to which the Fed raises the stakes with Congress over fiscal stimulus, especially with the election only 50 days away."
"No complacency!" said ECB chief Christine Lagarde at her policy press conference Thursday, adding that "Our accommodative monetary policy
needs the support of fiscal policy
."
Euro gold prices also rose to within 5% of early August's new all-time highs on Monday, trading up to €1649 as government bonds from most of the 19-nation currency union's members rose in price.
UK gold prices in Pounds per ounce
meantime rose within 4% of last month's all-time high, reaching £1521 as UK opposition Labour Party leader Keir Starmer stayed away from Monday's debate in Parliament, reportedly self-isolating after a member of his household "showed possible symptoms of the coronavirus."
Starmer had earlier told a radio station that "Boris Johnson is
all over the place
" on Brexit and that Labour "will not go along with breaking international law" – the same view now
repeated by 5 ex-prime ministers
as well former Conservative Party leaders and other senior figures.
Gold prices in Shanghai ended Monday unchanged from last week's finish at just below ¥416 per gram.
Compared to London quotes, that took the discount for bullion landed in gold's No.1 mining and consumer nation back to more than $50 per ounce - a record disincentive to new imports when first reached in April.
Giant
gold-backed ETF
the SPDR Trust (NYSEArca: GLD) shrank by 0.4% on Friday, needing 5 fewer tonnes of gold to back its shares and snapping what would otherwise have been its first weekly inflow in three.
Cheaper competitor the iShares gold ETF (NYSEArca: IAU) in contrast expanded by 0.7% across last week, ending Friday with new record-high holdings of 516 tonnes.
iShares' silver ETF (NYSEArca: SLV) meantime saw net outflows for the 6th of 8 sessions so far in September, shrinking more than 4.1% from mid-August's new record size as silver prices held at $26.87 per ounce – right in line with the last 6 weeks' average.
Silver tracked gold prices higher on Monday rising back above $27 per ounce, a sudden 7-year high when reached in the 65% surge of July and early August.
With gold trading at $1910 per ounce last Tuesday – the lowest in 7 weeks on a CFTC reporting day – hedge funds and other money managers as a group grew both their bullish and bearish bets on gold by 2.4%, leaving their net long position little changed at the equivalent of 480 tonnes, some 30% above the 10-year average.