Gold Price Rises 3 Weeks Running as Fed Goes Dovish, European Growth Slumps
Friday, 3/22/2019 14:01
GOLD PRICES headed for a third weekly gain in Dollar terms on Friday, holding at $1311 as Western stock markets fell following the news of the sharpest Eurozone manufacturing contraction since 2012.
Gold priced in the single Euro currency added €20 for the week to €1160 per ounce after March's first-flash IHS Markit PMI survey said manufacturing activity in powerhouse Germany has now declined for 14 of the past 15 months.
Together with a soft reading on service-sector growth across the 19-nation currency bloc, that meant the composite Eurozone PMI index extended its worst run since 2016.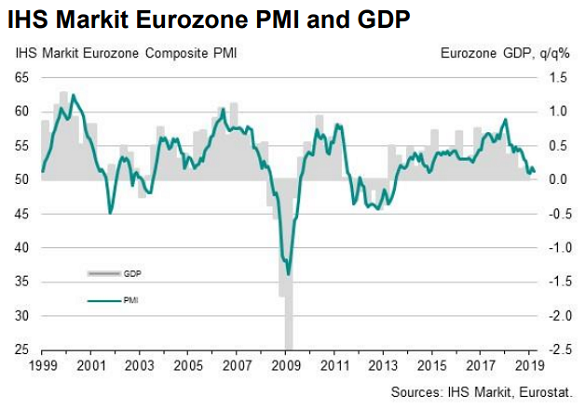 European equities dropped, led by a 1.3% drop for the day in the UK's FTSE and a 1.4% drop in France's CAC40 ahead of political demonstrations in London and Paris tomorrow.
The UK gold price in Pounds per ounce meantime slipped back below £1000, a 15-month high when reached in December, as Sterling rallied hard on the FX market following the European Union's
extension of the Article 50 process
beyond next Friday – either to 22 May if ruling Conservative Prime Minister Theresa May's deal gets approved at the 3rd time of asking by the UK Parliament next week, or to 12 April if her Brexit deal is again rejected with no alternative plans on the table.
With an online UK petition to revoke Article 50 now gathering over 3 million signatures in 36 hours, cancelling Brexit "isn't politcally doable" reckons John Kerr, who helped draft the EU exit terms in the 2009 Treaty of Lisbon.
A march through London demanding a second referendum on Brexit is expected to draw several hundred thousand
"people's vote"
supporters tomorrow.
Saturday will also bring Act XIX of gilets jaunes protests across France, with key sites in Paris blocked by police after last weekend's widespread violence and
damage to property
.
The European Parliament's civil liberties committee yesterday condemned the European Council for
failing to take action against Hungary
over what it calls the "deterioration of democracy and the rule of law" in the EU member state.
Separately the European Parliament yesterday announced "measures
preparing the EU for a no-deal Brexit
" which – dependent on the UK reciprocating – would see no block to cross-border aviation, rail or road transport services among other issues.